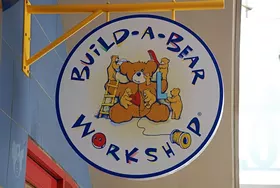 flickr.com/photos/hagleitn
Building a lawsuit
One of St Louis' most prominent (and furriest!) businesses seems to be approaching settlement with an East Coast company it
sued
last February for trademark infringement.
The locally-based
Build-A-Bear Workshop
-- recently listed in
Fortune
magazine's 100 best employers -- went all grizzly on
Build A Basket
in New Jersey because, as
the complaint
reads:
Defendant's actions are likely to cause confusion, to cause mistake, and to deceive purchasers, prospective purchasers, and the public...[and they] demonstrate an intentional, willful, and malicious intent to trade upon the goodwill associated with the The Build-A-Bear Workshop Marks.

A quick glance at both websites suggests that the two companies do different things.
Build-A-Bear lets customers construct their own teddy bears, which the New Jersey outfit doesn't apparently do.
Rather, Build A Basket lets customers create their own gift baskets for various occasions. You can even add whiskey, wine or beer to your basket. (Build-A-Bear does not seem to allow consumers to add a bottle of bourbon to their stuffed playthings, which in
Daily RFT
's opinion is absolutely no fun.)
The St. Louis company doesn't even look like it's in the gift basket business at all, although their complaint says they enjoy "common law" trademark rights on such items.
So what the East Coasters would've stolen, if our observations are accurate, was the "build-a" concept in general.
The New Jersey-ites, for their part, seem kind of confused about what stuffed animals they actually DO offer (consider their "
Baby Boy Diaper Cake
," which contains a couple of "giraffes" that look an awful lot like bears).
Where things stand legally: The attorney for Build A Basket recently scored an unusual third extension to respond to the allegations, explaining that "significant progress" had been made in discussions with the opposing party that would "alleviate the need for judicial resolution of the matter."
Neither side responded immediately to calls for comment.
According to the complaint, Build-A-Bear Workshop has sold "in excess of seventy-million plush, stuffed toys" since opening in 1997.