Finnish-born architect Eero Saarinen didn't live long enough to see the completion of his masterwork -- St. Louis' own Gateway Arch. He died in 1961, two years before construction even began.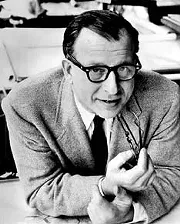 Happy birthday, old chap!
Had Saarinen lived (and lived and lived) he would have been 100 years old today. And amazing as that sounds, it's almost more amazing to contemplate all that he squeezed into his 51 years. Saarinen may be most famous for the Arch, but he's also responsible for a number of cool designs, including the TWA Terminal at JFK Airport, the Sydney Opera House (in a way) and the, yes, Womb Chair.
Five things you
probably
didn't know about Eero Saarinen, after the jump.
5. Despite his exotic name, Saarinen was about as Midwestern as they come.
His family emigrated to the Detroit area in 1923, when Eero was 13. After being educated in Paris, and at Yale University, Saarinen returned to the Midwest and even taught at Cranbrook Academy in Bloomington Hills, Michigan. (Eminem aficianados may remember Cranbrook as the genesis of a particular withering takedown in the film Eight Mile.)
Saarinen became an American citizen in 1940 and worked for the OSS -- the forerunner to the CIA -- during World War II. When Saarinen died, it wasn't on some overseas job site; he was in Ann Arbor, Michigan.
4. Despite the Arch's sweeping grandeur, Saarinen could also do functional.
His first major commission, done in collaboration with his architect father, was the General Motors Technical Center in Warren, Michigan. He also did a building for tractor giant John Deere.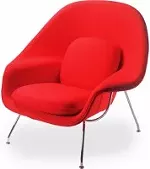 3. Saarinen got his start as a furniture designer.
​He's the man responsible for both the Tulip Chair and the Womb Chair, named because their curves somewhat resembled that of a tulip and a womb, respectively.

An early collaborator of designer Charles Eames -- he of the even more famous Eames Chair -- Saarinen actually named his youngest child Eames.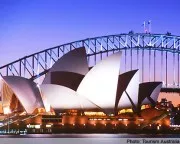 Sydney has Saarinen to thank.
2. Without Saarinen, Sydney might not have its Opera House.
Saarinen sat on the jury and allegedly rescued the winning design, by Danish architect Jorn Utzen, from a pile of rejects. Today, the Opera House is considered one of the great iconic buildings of the 20th century.

1. The Saarinens mistakenly believed for months that the wrong family member was a finalist in the Jefferson National Expansion Memorial competition.
Saarinen's daughter, Susan, is herself a landscape architect. (She's also here in St. Louis for a celebration of her father's life, beginning at 10 a.m. on the Arch grounds today.)
She has said that when the National Parks Service sent a telegram in 1947 stating "Mr. E. Saarinen" was a finalist in the design competition, everyone just assumed it was addressed to Eero's father, Eliel, himself a noted architect -- and toasted him with champagne.

It was only a few months later, when follow-up instructions arrived addressed to "Eero Saarinen" that they realized the son had surpassed his father. More champagne -- and the Gateway Arch -- were the eventual result.