This week's Riverfront Times explores our city's literary history. Check back throughout the week for online-only maps and articles supplementing this week's cover story.
Two scenes from north city.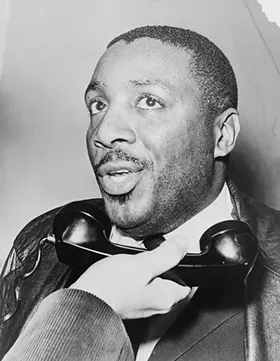 Library of Congress
Dick Gregory in 1964.
First, the comedian Dick Gregory's memories of the cops in the Ville neighborhood where he grew up.
"There were Negro cops in the neighborhood, and they were tough. They were even tougher on us kids than the white cops because they knew us better and how we acted reflected on them. There was Big Black and Middlebrooks and Clarence Lee and Grimes, the toughest of them all. That Grimes could put seven cats from the corner in the hospital with two blows. Once he caught a kid drinking wine in the schoolyard and he smashed the bottle while the kid was drinking out of it. With a baseball bat."
(from Nigger: An Autobiography)
Ntozake Shange, who also grew up in the Ville, describes her city and, more specifically, Clark School, which she attended until the forced integration of the St. Louis school system in 1959.
"St. Louis considered itself the only civilized city on the Mississippi, after New Orleans, of course. Every boulevard bespoke grandeur and Europe for even the colored avenues weren't without some token frenchified accent. The Civil War accounted for most of the monuments in and around the colored section, and the buildings were graced in marble and granite, as if the nappy or straightened heads and many-hued skins simply had no implications. Betsey's school was sucha place. A great red brick edifice covering more than a block, taking in the colored children from behind the library, cross the trolley tracks, behind the rich girls' school, and back across to the colored teachers' college. All these rushing, giggling brown babies loaded with books and language all their own converged upon Clark School each morning: one mass of curls and prepubescent excitement."
(from Betsey Brown)