This week's Riverfront Times explores our city's literary history. Check back throughout the week for online-only maps and articles supplementing this week's cover story.
The Delmar Loop, pre-Joe Edwards, as described by Harold Brodkey
"There is a certain shade of red brick - a dark, almost melodious red, sombre and riddled with blue - that is my childhood in St. Louis. Not the real childhood, but the false one that extends from the dawning of consciousness until the day that one leaves home for college. That one shade of red brick and green foliage is St. Louis in the summer (the winter is just a gray sky and a crowded school bus and the wet footprints on the brown linoleum floor at school), and that brick and a pale sky is spring....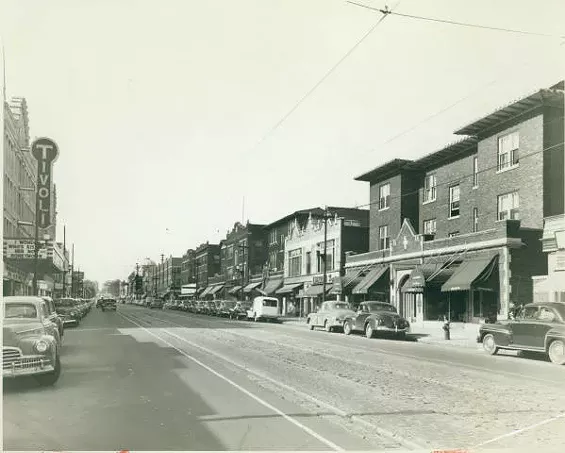 University City Public Library
The Delmar Loop in 1948.
"As I came up the street from school, past the boulevard and its ugliness (the vista of shoe-repair shops, dime stores, hairdressers', pet shops, the Tivoli Theatre, and the closed Piggly Wiggly, about to be converted into a Kroger's), past the place where I could see the Masonic Temple, built in the shape of some Egyptian relic, and the two huge concrete pedestals flanking the boulevard (what they supported, I can't remember, but on both of them, in brown paint, was a large heart and the information that someone named Erica loved someone named Peter), past the post office, built in W.P.A. days of yellow brick and chrome, I hurried toward the moment when at last, on the other side, past the driveway of the garage of the Castlereagh Apartments, I would be at the place where the trees began, the apartment houses of dark-red brick, and the empty stillness."
(from "The State of Grace", collected in First Love and Other Sorrows)
Brodkey grew up in University City at 504 Kingsland Avenue.