Randy Greenman (left) and George Whitter.
At a news conference yesterday, St. Louis County Prosecutor Bob Mculloch announced charges against five members of the Invaders motorcycle gang in connection to three murders in 2007.
The charges finally provide answers to a three-year-old mystery began in September 2007. That's when
George Whitter
, 36, hitched a ride home with his friend
Randy Greenman
, 39, from the House of Rock bar in south St. Louis County. Their dismembered bodies would be found months later scattered about Jefferson and St. Charles counties.
According to authorities, Whitter was a totally innocent party -- being in the wrong place in the wrong time -- when Greenman made a pit stop on their way home from the bar.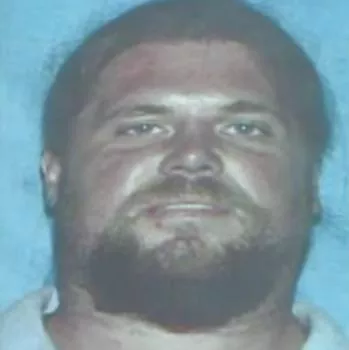 Edward Boroughf charged with murder.
Though not a member of the bike gang, Greenman was allegedly trafficking marijuana on behalf of the Invaders and needed to talk to gang member
Edward "Special Ed" Boroughf
. Once inside Boroughf's home on Sappington Barracks, Greenman was shot and killed. The gang members then realized that Whitter was outside in the car waiting for Greenman, so they killed him, too, according to prosecutors
Boroughf's home was burned to the ground days later -- allegedly to hide evidence of the killings.
The Invaders are also accused of killing one of their own --
Alan Little
-- in 2007 shortly after the 61-year-old was released from prison. His remains were later discovered on a farm in St. Mary, Missouri, that once belonged to a relative of one of the Invaders.
Charged with killing Greenman and Whitter are Boroughf, 40, and
Herman "Oz" Ozwalt
, 63, of the Nelson Circle in Eureka. Ozwalt is also charged in the murder of Little, who he allegedly murdered with
Steve "Sticky Steve" Morris
, 47, of St. Mary, after the two gave Little a ride home from prison.
Eugene Smith
, 55, of Kraft Street in Dogtown, is charged with arson and hindering prosecution.
Raymond Bodway
, 38, of South County is charged with hindering prosecution.
Edward Boroughf, 40: murder
Stephen Morris, 47