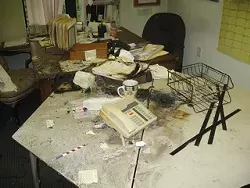 Source: Carnahan Campaign
The firebombing left some papers charred but created no major damage.
Update #1
:
Response to all you rabid commenters.

Update #2
:
Carnahan addresses allegations suspect worked for his campaign.

St. Louis police have arrested a 50-year-old white man in connection to the bizarre firebombing early yesterday of Congressman Russ Carnahan's campaign headquarters.
The incident occurred around 2:20 a.m. Tuesday. St. Louis police received a call moments later from someone who heard glass break and smelled smoke emanating from the building at 7000 S. Chippewa.

Police aren't releasing the man's name until charges are officially filed. No motive was given for the attack, though one could suspect that the perpetrator is not a fan of the congressman. Given what we know of him -- 50, white, angry -- he certainly fits the demographics of a Tea Party member.

Perhaps, he joined his fellow "patriots" earlier this year when they burned Carnahan's photo in effigy or placed a coffin on the sidewalk outside his home. On second thought, maybe he's not a Tea Party member. Firebombing your opponent's office seems a little too, um, sane for that group.

Angela Guyadeen, communications director for Carnahan's re-election campaign, issued a statement confirming yesterday's incident. "There is minor damage to the office and the campaign headquarters
remains open," said Guyadeen. "The St. Louis police and fire departments are
investigating."