One man is dead and five other are hospitalized with gunshot wounds after four separate shootings in St. Louis over the past 24 hours.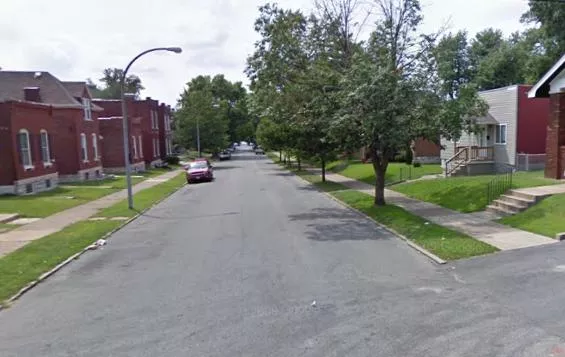 The first shooting occurred yesterday afternoon around 3:35 p.m. in the 4700 block of Louisiana (above). That's where St. Louis police report that 44-year-old
Kenneth Roberts
was walking down the street when shots were fired from a green, four-door vehicle. Roberts was struck in the face and pronounced dead at the scene.
In other violence occurring overnight...
Two people were shot in the 1400 block of Belt around 11 p.m. The victims described as black males ages 17 and 20 are in serious but stable condition. According to the police, they were part of a group of people talking with passengers in a car when two suspects, described as black males, approached on foot and began firing.
Hours later -- around 4:30 a.m. this morning -- a 40-year-old man was walking west on Barrett toward N. Grand when he was shot in the thigh by an unknown suspect near the east end of Fairground Park.
A few minutes later, on the other side of the park, a couple in their car were shot by a passing vehicle at 4:42 a.m. The man and woman, both age 30, each sustained gunshot wounds to their abdomens and are in stable but critical condition. The suspect are described as four black males in a red Ford Taurus.
Anyone with information on these shooting can leave an anonymous tip with CrimeStoppers at 866-371-TIPS.