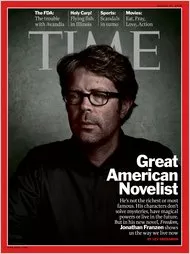 Webster Grovians, prepare yourselves! Tomorrow the newest edition of Time magazine hits newsstands, featuring, on its cover, the tortured visage of native son Jonathan Franzen beside the headline "Great American Novelist". Franzen is the first living writer to grace the magazine's cover since Stephen King a decade ago.
The accompanying story by Lev Grossman (who is not from the St. Louis area, but whose own most recent novel, The Magicians, is definitely worth a read, especially if you spent your adolescence wishing you could attend Hogwarts) was composed on the occasion of the publication of Franzen's latest book, Freedom, out August 31.
Like Franzen's last novel, The Corrections, Freedom chronicles the dissolution of an American family, though unlike The Corrections' Lamberts, who lived a stifling middle-class existence in a thinly-disguised St. Louis, Freedom's Berglunds are urban pioneers and gentrifiers in St. Paul -- until it all goes terribly wrong. (The New Yorker ran an excerpt last year and another in May.)
The Corrections won the 2001 National Book Award, but is probably more remembered as a selection of Oprah's Book Club, mostly because Franzen famously snubbed Ms. Winfrey by refusing to appear on her show and thus earned a reputation either as a proud champion of American intellectualism or a major prick, depending on your point of view. (But let it be noted that Toni Morrison, who has also appeared on the cover of Time and won the Nobel Prize for literature besides, has discussed her work with Oprah and her audience on numerous occasions.) In any case, here's Franzen's side of the story.
Early reviews of Freedom have been mostly positive, hailing it as a great American novel (although one noted that "every line, every insight, seems covered with a light film of disdain" -- something that will not surprise readers of Franzen's earlier work), and booksellers are counting on it to help them make their Christmas sales projections.
Out in Webster Groves, Pudd'nhead Books isn't planning a midnight release party -- even in his hometown, Franzen doesn't inspire the same sort of fan frenzy as J. K. Rowling or Stephenie Meyers -- but owner Nikki Furrer is very excited about it. "I love it much more than The Corrections," she says. "It's the same sort of thing -- a monster family epic -- but it's so good! It's my favorite of the year. I appreciate his craft, his effort, his effortlessness."
Franzen will be coming to town on September 20. In the morning, Pudd'nhead will sponsor a visit to John Burroughs School, and in the evening, Left Bank Books will host a reading at the Schlafly Library.
In the meantime, here are a few of Franzen's autobiographical essays about his childhood in Webster: about his older brother, about his experiences in a church youth group and his career as a prankster at Webster High. (They've also been collected in his book The Discomfort Zone.)