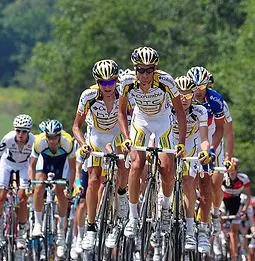 tourofmissouri.com
Bikers ride in last year's Tour of Missouri.
If you haven't heard yet, Colorado next year will host an international cycling event in August featuring the world's top riders. That's the same month that Missouri once held its own elite road race before it was
canceled this year due to lack of funding
from the state.
Unlike the Missouri race, the Colorado event has a title sponsor in restaurant chain Quiznos. The race, to be called the "Quiznos Pro Challenge," also has the backing of America's most famous cyclist. As the
Denver Post
reported earlier this month,
Lance Armstrong
came up with the idea for the Colorado race last year and presented it to
Gov. Bill Ritter
.
Ritter, who
in contrast to his Missouri counterpart
Jay Nixon
, is a fan of cycling and thought the race was a great idea. Moreover, he's suggesting that the state contribute $300,000 for the event.
"We think (funding from) the tourism office is absolutely defensible given the kinds of tourism opportunities there will be because of this race," Ritter told the
Post
.
As you might expect, biking advocates see Colorado's gain as Missouri's loss -- and the impact isn't just emotional. Missouri's expenditure of $1.5 million in years' past for the race, contributed to a $30-plus-million impact in statewide spending, according to
David Porthouse
, a St. Louis vice-president with the global sports research consultancy,
IFM
.
"Cycling fans are a very affluent group with an average household income of $106,000," Porthouse tells
Daily RFT
. "Tour of Missouri brought these fans in from 30 states and countries. When you look at how much tax revenue was generated from the money the tour brought in, the money Missouri paid to sponsor the race was essentially a wash even under conservative assumptions."
Moreover, Porthouse says, it's unlikely that Missouri will pick up an elite bike race for quite sometime. Colorado last had an international-caliber bike tour in 1988 when its ten-year-old Coors Classic made its final run.