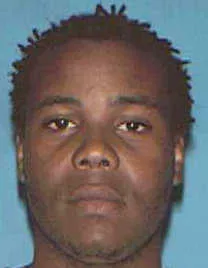 Elliot was finally apprehended last Wednesday hiding out at his brother's home in south St. Louis.
For 135 days he was on the run. A 20-year-old man wanted for a
grisly predawn shooting
March 24 that claimed the life of 23-year-old
Martin "Marty" Lampe
.
Lampe, of Maplewood, was sitting in a Chevy Impala parked outside a convenience store in Sauget when a carjacker entered the vehicle, shot him twice in the stomach, kicked him to the curb and sped off into the predawn blackness. Two days later
police found the Impala
in north St. Louis stripped of its rims. The discovery also led to the name of a suspect:
Lason Elliot
.
Sauget police chief
Patrick Delaney
tells
Daily RFT
that he and his officers thought they'd have Elliot within days. Instead, it turned into a four-and-a-half month goose chase with Sauget detective
Vito Parisi
and the U.S. Marshals Service following one dead end after another.
"It was an extremely frustrating investigation," recounts Delaney. "Parisi literally worked on this every day. We got a lot of leads, but it seemed each time we arrived someplace we were a day -- or just a few hours -- too late."
Facebook
Marty "Martin" Lampe
All the more baffling to authorities was that Elliot spent most of his time on the lam inside the St. Louis area. "There were a couple times when he may have left for a week or so, but he always came back," says Delaney. "We had the homes of his relatives under surveillance. We knew he was around but still we kept missing him. It was like, 'Who is this guy? Houdini?'"
Finally, says Delaney, he got a call from the U.S. Marshals last week saying that Elliot had been spied on numerous occasions in south St. Louis. "We had the feeling that we might finally be closing in," says the police chief.
Last Wednesday at 3:55 p.m. a dozen lawmen comprising U.S. marshals and Sauget cops surrounded a house in the 4200 block of Gannett where one of Elliot's brothers had just moved. Hiding in a second-floor bedroom was Elliot.
4200 block of Gannett in the Bevo Mill neighborhood
As police ascended the stairs inside the home, Delaney says Elliot opened up the bedroom window to see that the home was surrounded. He called out that he was unarmed and was arrested without incident.
"We're very fortunate," says Delaney. "Everyone we talked to told us that he is always armed with a handgun or a sawed off shotgun. It ended peacefully."
Elliot is being housed in the St. Clair County Jail unable to pay the $1-million bond that would secure his release. Delaney says Elliot told the judge that he's retained
Scott Rosenblum
as his attorney.
The Sauget police chief thanks those who called in tips to CrimeStoppers and the staff of Michael's Restaurant in Maplewood where Lampe worked.
"They were persistent in calling us and wanting to know what they could do to help," says Delaney. "Unfortunately, this case just took an unusually long time. I know a lot of people were frustrated -- including us."