Image source
Einstein tells the world what he thinks of Andy Schlafly
Last time we checked-in with
Andy Schlafly
-- son of
Phyllis Schlafly
and first-cousin of local brewer
Tom Schlafly
-- he was attempting to re-write the Bible,
purging the holy book of "liberal bias,"
and striking well-known passages like "forgive them Father for they know not what they do."
Now his Don Quixote-like crusade against the vast liberal conspiracy is grabbing headlines once again. This time around, Schlafly is taking on
Albert Einstein
.
The local scion is under fire for an entry on his website about the famed physicist's
Theory of Relativity
, better known as the equation E=mc².
Schlafly writes that the theory, "is heavily promoted by liberals who like its encouragement of relativism and its tendency to mislead people in how they view the world."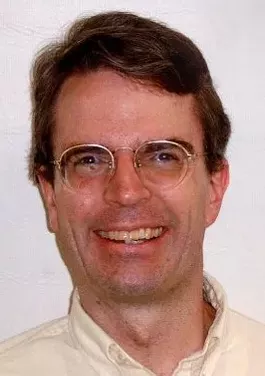 Image via conservapedia.com
Andy Schlafly
The faux-controversy was featured yesterday on the popular website
Talking Points Memo
. The authors there discovered the Theory of Relativity entry on Schlafly's website,
conservapedia.com
(Schlafly also believes that Wikipedia -- which can be edited by anyone with access to the Internet -- also has a "liberal bias"), and decided to do a take down:
If you're behind on your physics, the Theory of Relativity was Albert Einstein's formulation in the early 20th century that gave rise to the famous theorum that E=mc2, otherwise stated as energy is equal to mass times the square of the speed of light. Why does Andy Schlafly hate the theory of relativity? We're pretty sure it's because he's decided it doesn't square with the Bible.

TPM goes on to dig through the "citations" used by Schlafly in his entry, rightly pointing out that they refer back to his own writings and warped interpretation of the scripture. Read the whole sad/hilarious entry by clicking
here
.
Schlafly, a Saint Louis Priory School alum, now makes his home in New Jersey. He works as a private home school teacher and has no affiliation with Saint Louis Brewery, the makers of Schlafly beer.
Schlafly is actually a well-educated guy -- he holds degrees from Princeton and Harvard Law -- but obviously he's no Einstein.