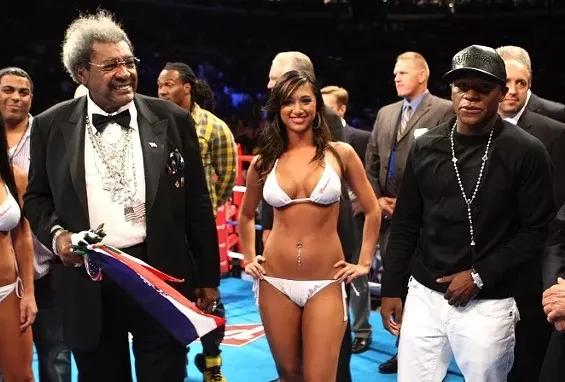 It's Don, Floyd and the second-most attractive woman on the blog today.
The big story Saturday night in St. Louis was not
Devon "The Great" Alexander
and his
less-than-triumphant "victory"
over
Andriy Kotelnik
.
Sure, Alexander showed some grit -- fighting through a gruesome cut over his right eye for six rounds -- and everybody was happy to see the hometown kid prevail (even if it meant Kotelnik getting the shaft from the judges in the unanimous decision) but the real news happened outside the ring:
Don King
and
Floyd Mayweather
forged an alliance that might finally lead to the fight of the century.
Word of Mayweather and King's rekindled relationship has been spreading since the 78-year-old promoter served the champ a 20-pound lobster valued at $500 at dinner at his mansion in Florida late last month. Mayweather posted pics of the feast on
his Twitter feed
.
But sparks continued to fly this weekend in St. Louis, with King and Floyd sitting ringside next to each other for the Alexander fight and mugging for pictures all night long. Here's
a snap Mayweather shared
of him and King in a hotel room Saturday night with a huge stack of cash:
King further showed he means business by dissing Mayweather's current promoter,
Richard Schaefer of Golden Boy Productions
, and playing the race card in an interview on Saturday with
Fanhouse.com
:
Me and Bob Arum can pull this Floyd Mayweather-Manny Pacquiao s**t off in two seconds, you know what I'm saying. I'm talking in two shakes of a lamb's tail. It would be fitting and proper for Bob and I to work on this because we're used to what it means.

Rather than think about what it seems to be. You've got to be able deal with what is real. You've got to be able to deal with the hypocrisy in a manner that you understand. If you don't understand, then you're apprehensive. They [Mayweather's promoters] don't speak ghetto-ese like Floyd Mayweather does, do you understand? I mean, that's like hieroglyphics to them. So they may talk to the man like they're talking down to the man. Talking around the man. Or looking at the man in a condescending manner, you know what I mean? They look at him like he's an indentured servant when in actuality he's the hottest thing on the planet.

King boasted that he could pull-off a deal that would net Mayweather $100 million for fighting Pacquiao, and named Dallas, St. Louis and Washington, D.C., as possible locations for the bout. (Alas, no mention of King fixing a second Thrilla in Manilla with Pacquiao fighting in front of his home crowd in the Philippines.)
Regardless of what happens, Pacquiao is scheduled to fight
Antonio Margarito
on November 13, so the Mayweather showdown would have to wait until this coming spring.
And if the fight falls through again, Pacquiao now knows he has another challenger gunning for him -- albeit one who lacks the prestige of the 41-0 Mayweather. After
Cornelius Bundrage
beat the living crap out of
Cory Spinks
Saturday, he excitedly told reporters, "I want Manny Pacquiao next."
No offense to Cornelius, but that's not the fight the world -- including Don King -- wants to see.