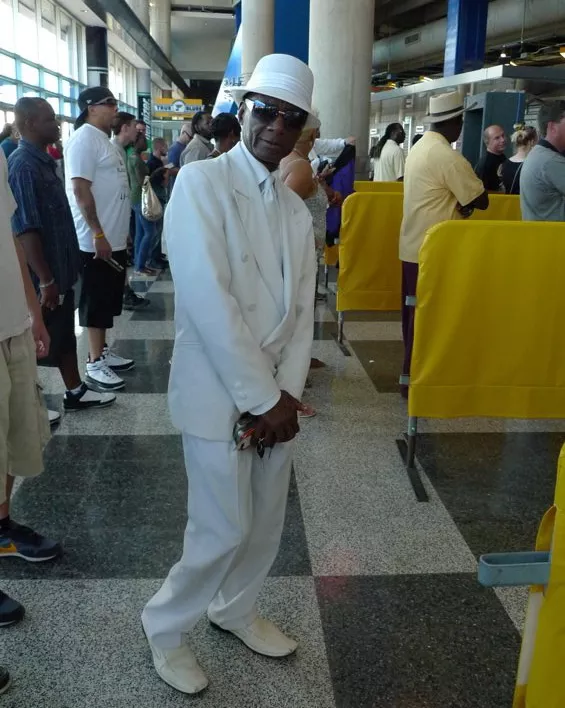 The best-dressed man at the fights. Don King was a distant second.
photos by Keegan Hamilton
Don King. Floyd Mayweather. Evander Holyfield. Steven Jackson. Max Kellerman. Michael Buffer. Daily RFT. All the celebrities (and this blogger) were on hand Saturday night in downtown St. Louis to see the "Gateway to Greatness" -- the big time boxing match between hometown hero Devon "The Great" Alexander and a some ugly Ukrainian guy.
We had a wireless connection and seats so close to the ring that it seemed like blood might actually spatter onto the keyboard. Sit down and strap in for a hard-hitting running commentary -- low blows strictly prohibited.
Devon "The Great" Alexander vs. Andriy Kotelnik
All the celebs gather in the ring before the bout. Steven Jackson gets a nice applause (he's one of 22 Rams players in the house) with a few scattered boos from the angry drunks in the crowd. Still a few empty seats (scalpers outside are selling tickets for face value) but it's a solid -- and very vocal -- turnout that should favor Alexander.
Don King grabs two very young, very attractive ring girls on each arm and poses for pictures with a grin the size of a championship belt. He's wearing a black suit instead of the prized jean jacket he bought in 1993 and more gold chains than T-Pain. You can't even see his black tie.
Michael Buffer calls Floyd Mayweather "The best fighter in the world," and half the crowd roars in approval. The other half boo because they know Floyd doesn't have the cojones to fight Manny Pacquiao. Here's hoping Don King takes him and Bob Arum over to the Sauget after the fight, fills them both up with Patron talks them into taking on Pac Man.
Who wins in a no-holds-barred battle between Steven Jackson and Floyd Mayweather
Alexander comes in the ring decked out in a hot red velvet robe and a red Cardinals STL hat. Buffer gives him the full lung-draining introduction and the crowd goes nuts. Put in your mouth pieces and jock straps, kids, it's about to be on.
Round 1
Alexander has the jab going early but Kotelnik is unfazed. A few good exchanges but nothing spectacular. Kotelnik showed some aggressiveness but that round gets scored 10-9 for Alexander.
Round 2
After seeing the light heavyweights (Cloud vs. Johnson) go at it earlier in the night, these guys look lightning fast. Alexander has a little bit of an advantage but Kotelnik has a good stiff right that makes his Borat-looking corner man clap with joy every time he lands it.
Round 3
Alexander is going for the counterpunch strategy now, letting Kotelnik throw the jab and then trying to retaliate with a quick flurry. It's working alright but Kotelnik is more accurate with his punches. He's scoring more points and probably won the round because of it.
Kotelnik has a small contingent of flag-toting fans ringside who are chanting for him in Ukrainian. Unfortunately for him, they're getting drowned out by 9,117 rowdy St. Louisans.
Round 4
Action-packed round -- Kotelnik picks his spots but Alexander takes it overall with some very strong combinations and more power punches. More exciting, though, was Floyd Mayweather mugging for the cameras with Don King between rounds. Can King work his magic and set up the second Thrilla in Manilla?
Round 5
Alexander's right eye is swollen and bleeding. Crowd chanting "Devon! Devon! Devon!" but he's taking a beating right now. Hometown kid had a few good shots but Kotelnik has him on his heels.
Devon Alexander got punched in the face. A lot.
Round 6
Alexander -- a southpaw -- is holding is right hand dangerously low and Kotelnik is capitalizing and landing straight jab after straight jab and opening up Alexander's injured eye. Alexander is finding his back on the ropes too often and Kotelnik seems to be taking control of the fight. Yikes. The crowd senses it and murmurs nervously after the bell rings.
Round 7
Kotelnik is relentless and still landing a high percentage of punches, including those dangerous jabs to the eye. Alexander is officially losing, and he wobbled a bit after Kotelnik hit him with a right hook.
Round 8
Alexander gets rocked and staggers for a second. Then he comes right back and finally (!) connects with a few power punches. The crowd is back into it. Tough call as to who won that round.
Round 9
Blood is pouring out of Alexander's eye now. The ref calls a halt and brings out the doctor to take a look. The doc shines a little flashlight on the flesh wound and says it's ok. Alexander comes out of it charging hard but Kotelnik weathers it. Advantage still to the Ukrainian, unfortunately.
Round 10
Kotelnik's trainer giving him the classic advice, "Don't box him, fight him." Alexander's corner seems to have sealed up the cut...at least for now.
And the blood is back. And it's bad. Kotelnik keeps working the jab and Devon keeps leaving his right hand down and leaving the gash exposed. The ref could stop this fight...if he wants to cause a riot. Round ends with a flurry of punches, and Alexander at a severe disadvantage.
Round 11
The crowd is on their feet after this one. Alexander showed he still had some fight left in him, backing Kotelnik into the corner at the end of the round, but the Ukrainian still landed more punches. Alexander probably needs a KO if he wants to win but you never know with hometown judges.
Round 12
Crowd pulling hard for the hometown kid but Kotelnik silences them and stuns Alexander with a few hard punches, including a sold right cross. Not good. Something miraculous (or underhanded) needs to happen if Alexander is going to win.
They trade punches until the very end. Alexander's blood is all over the ring. What a slugfest. The Great showed a lot of grit hanging in there but it's going to take some home cooking for him to win this one. Prediction: Kotelnik in a split-decision.
Actual outcome: Alexander by
unanimous
decision...and the crowd goes wild.
Wow. It's hard not to be happy for Alexander but there's no way he won unanimously. Kotelnik didn't dominate but he definitely landed a higher percentage and more punches. This is the sort of thing that gives boxing a bad name.
Final stats: Alexander threw 1,113 punches and connected on 202. Kotelnik threw 763 and connected on 225. All the judges have Alexander winning eight rounds to Kotelnik's four. One of them actually have Alexander winning the final round, which is comical.
Alexander says his leg cramped up in the twelfth round. Calls it "an ok performance" but he thought he "did enough to win." Also gives props to Kotelnik, going with the preferred "tough as nails" cliche and says "he trained hard, give him credit...we knew he would come in in-shape and he did. He was what we thought he was."
Translation: "Wow, I was lucky not to lose."
Kotelnik's words: "I want the belt and I deserve it. If the fight was anywhere else but here i'd be champion. I'm speechless. I have no words to describe what happens. That guy has something that belongs to me: the belt."
Tavoris "Thunder" Cloud vs. Glen "Road Warrior" Johnson

The woman singing the Star-Spangled Banner just got booed. She paused as if she forgot the words right after "twilight's last gleaming," and then hit a flat-note a few bar later. The reporter next to me (from the RiverCity Examiner) cracks, "It's like crowd at the Apollo in here."
Thunder vs. Road Warrior has to be the best nickname match-up of the night. Here's guessing Mel Gibson goes down in the fourth. Johnson is 41-years-old. Pretty sure he fought against Joe Louis earlier in his career. He's got 65 fights on his odometer (w/ 32 KO's) to Cloud's 20 (w/ 18 KO's).
A light heavyweight title is on the line...and HBO boxing after dark is now live. Johnson enters the ring in slick white trunks with red stripes. Cloud is decked out in orange and black tiger stripes. Meow.
That's Bernie Miklasz's head blocking Daily RFT's otherwise stellar ringside view. No hard feelings though.
Round 1
Thunder should actually be called lightning. (Cue the rimshot sound effect.) His hands are quick and he's throwing some powerful punches. Johnson seems unfazed -- the fighters just felt each other out. Or up. Or something.
The crowd is shamelessly catcalling the (admittedly hot) ring girls. Why does boxing have women in bikinis in the ring ever three minutes? Because two shirtless men hugging each other isn't enough to get people excited.
Round 2
Cloud doing some damage with short, compact punches until Johnson turns it on and lands a few of his own. Some good solid exchanges that round that had the crowd oohing and ahhing and rising to their feet. Apparently the old man has something left in him after all.
Round 3
Giving this round to Johnson. Nothing too exciting happened but he landed more solid shots. Plus he gets the benefit of the doubt since he had to leave the retirement home for the match.
Round 4
Cloud is raining down (rimshot again) hard right hands. Johnson looks hurt. My KO prediction is officially out the window though after the final bell rings with no one on the mat.
Round 5
Cloud again comes out strong and seems to have Johnson wobbling. Johnson, though, gathers himself and comes back. All that bare-knuckle experience in the early 1900's really taught him how to take a punch. Call that round a push.
Round 6
Uneventul. More interesting is the fact that Wikipedia tells us that Johnson's nickname is actually "Gentleman," which is not nearly as intimidating as "Road Warrior." Let's take it to mean that his career has been so long he needs two nicknames.
Round 7
Yawn.
Round 8
Cloud pours it on. Johnson looks like he's about to buckle but somehow keeps his wits about him. It feels like Cloud is one good punch away from ending this fight...but Gentleman Road Warrior somehow hangs on.
Round 9
A bit of a lull -- Cloud can't channel the power of the tiger shorts and find that killer instinct. Johnson got his wind back this round but he's going to need a KO if he wants to win. Cloud has to be way ahead on the cards.
Round 10
Cloud is cut above his right eye and it's got the ref's attention as he takes a seat in his corner. Johnson needs to capitalize because he won't win if it goes the distance.
Round 11
Once again Cloud dominates a round, Johnson never looked hurt but he was on the defensive almost the entire time.
Round 12
The crowd is cheering like they expect a KO this time around...Cloud comes out firing with straight jabs, he's got good energy but Johnson is staying strong and still landing some good body shots. Both fighters landing strong punches all the way up to the final bell.
Best fight of the night thus far.
Johnson is posturing like he won but Michael Buffer announces that Cloud wins by unanimous decision. There is justice after all in boxing.
Cory "The Next Generation" Spinks vs. Cornelius"K9" Bundrage
Anxious to see if Spinks can overcome his last letdown in St. Louis. The crowd is loving his red-white-and-blue trunks with "St. Louis" embroidered in a red letters on a white arch on his backside.
Bundrage, of course, is getting booed heavily against hometown kid. They should boo just because his nickname is K9 instead of something like Rage Machine or All The Rage. Well, maybe they'd boo louder for that second one.
Round 1
Bundrage comes out swinging and Spinks isn't ready for it. He gets pummeled in the first minute. Spinks looks rattled, Bundrage smells blood. Another embarrassment brewing for Spinks in front of the St. Louis faithful?
Round 2
Bundrage just looks like he's in better shape than Spinks -- he is sculpted and appears to be carrying about five more pounds of muscle than his opponent.
A lady behind me with blond dreadlocks sums it up perfectly: "Cory is just not doing anything."
Later in the round, K9 lands blow after blow -- Spinks is hanging out of the ropes and actually turns around and sticks his head beneath the top rope in order to get the ref to pause for a moment in the last 30 seconds of the round. He looks done. Predicting a knock out in round three.
Round 3
Crowd comes out chanting "Cory! Cory Cory!" and he promptly takes a knee after clenching with Bundrage. Score it a slip.
Bundrage hangs back for a second and lands a hard right hand. He's stalking Spinks around the ring. Bell rings with no knockout. Spinks didn't look completely awful so his corner has to be happy. Or deciding if they're going to throw in the towel next round or the one after.
Round 4
Bundrage winds up and hammers Spinks with a hard right hand to the nose. Then he works the body. Spinks is getting owned.
Round 5
Spinks still hanging on for dear life...literally. He's bending over and wrapping his arms around Bundrage's waist. Oops, then he got backed into a corner and toppled through the ropes when he bent over to clench with Bundrage.
And down goes Spinks.
Bundrage popped him with a three right hands in a row and almost sent him through the ropes again. Spinks' legs turned to jelly after the second punch. He got back on his feet fairly quickly but the ref put an end to his misery. Spinks seemed to be complaing he got hit below the belt but the only low blow that the crowd saw was Spinks getting his ass-kicked.
Now Spinks' girlfriend (or at least a blinged-out young black woman with a ridiculous blond wig or dye job) appears to be consoling him in the ring. Spinks is actually crying. The crowd boos. The woman behind me sums up again: "You can't act like they took it from you when you got your butt-whupped."
Ryan "The Irish Outlaw" Coyne vs. Tim "The Hit Man" Browning

It's quiet enough at the opening bell of the first serious fight of the undercard to hear the drunk rowdies taunting Browning and cheering on Coyne, an ex-football player from St. Charles. The best lines so far are "He's old!" and "C'mon Irish...hit 'em in that big melon!"
Our seats on press row are three rows back from the ring and directly behind Bernie Miklasz and the crew from the
Post-Dispatch
. Forget between the action ropes, the real slugfest will between us and the big man on Twitter.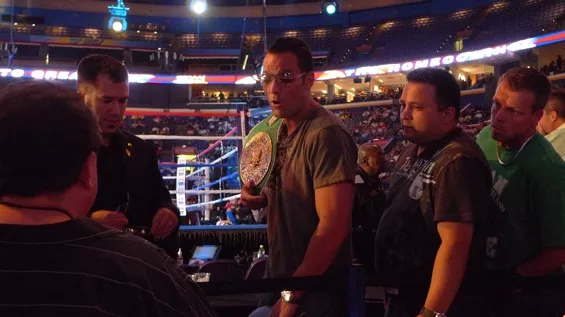 Coyne and his entourage (Turtle and Drama, obviously) talking to Bernie Miklasz after the fight
Round 1
Not much action. Hit man looks stronger -- he's landing more punches with more power, including a good shot to the gut...and a right hook that was a split second too late after the first bell.
Round 2
Guess coyne was just biding his time until he found an opening. Scores a knockdown. It doesn't look like he has a lot of punching power but he floored Hit Man with a solid right hand to the side of his bald dome. Browning came back strong though and looked steady on his feet at the bell.
Round 3
Coyne gots backed into a corner and hit with an uppercut. Then Hit Man threw a low blow that the ref didn't spot. Both fighters are doing a lot of hugging and Browning looks like he's trying to grind Coyne down, even working in a litle headbutt that pissed Coyne off and got him punching hard. This fight is as ugly as Hit Man is.
Round 4
Browning throwing big punches, really winding up and swinging. Coyne is taking them and not counter-punching particularly well. Crowd doing "go hit man, go hit man, go" chant to the tune of MC Hammer.
Round 5
Hit Man loves big slow left hooks. Coyne finally gets a good counter on a right crosss and an uppercut that had hit man wobbling. Coyne backs Hit Man into a corner and lands some strong punches. Coyne finally wins a round convincingly
Don King walks in with Evander Holyfield about a minute into the round and takes a seat ringside. He also has an obscene tangle of gold chains dangling around his neck.
Round 6
No idea what happened in this was. Was entranced by the glimmer on Don King's necklaces.

Round 7
Combination and an uppercut for Hit Man. Hit Man looks tired, and wobbled a little bit after missing on a looping right hook. He's fighting with his hands at his waist and he is definitely not Cassius Clay.

Round 8
Coyne taking over, landing hard combinations and sending sweat spraying off of hit man's ugly bald head. Ooh! Hit man responds with a cuple big uppercuts.
As an aside, Hit Man has to be the most over-used and least clever boxing nickname in history. Pretty sure it was the name of the pushover character on Mike Tyson' Punch Out for old school Nintendo too.
Round 9
Coyne with the KO! A straight left hand that caught Hit Man square in the jaw and toppled him. He tried to get up for the standing eight count but the ref called it when had to prop himself up on the ropes. Crowd goes wild and Don King jumps in the ring and starts waving an Irish flag, making him the most awkward-looking leprechaun of all-time.