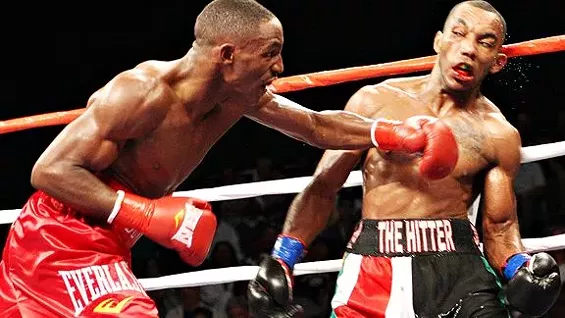 Hopefully Devon "The Great" Alexander doesn't KO the local gamblers.
The sweet science and the sport of kings. They are hands-down the two greatest sports on which to gamble. Both of them are coming to St. Louis tomorrow, live and in full effect.
Devon Alexander
will take on
Andriy Kotelnik
in a title fight at the Scottrade Center and a quarter-horse race with a $100,000 purse ups the usual stakes at the local track.
Here's a handy primer on what to expect at Saturday's wager-friendly festivities. (
UPDATE
: Check out Daily RFT's
"Blow by Blow Account"
of the fights)
The Fight
Hometown hero Devon "The Great" Alexander takes on Andriy Kotelnik in the biggest bout to hit St. Louis since that Spinks guy (hint: not Cory) was in his prime. The entire Rams football team is being bussed in after practice to watch the fight. Rumor has it that
Floyd Mayweather Jr. will be sitting ringside with Don King
-- a proposition that's simultaneously encouraging and terrifying for boxing fans hoping to see a Pacquiao-Mayweather showdown.
There are a few interesting undercards, most notably
Tavoris Cloud vs. Glen Johnson
for the IBF light heavyweight title. Cloud is a beast (20-0 with 18 KO's) who came up hard in Tallahassee, Florida. Johnson is a Jamaican nicknamed "The Gentleman," who is 41 years-old with a career record of 50-13. Cloud is the favorite at -270 -- and there's no reason not to bet* on the heavy-hitting young stud and make some easy money.
Stay far away from
Cory Spinks
. Supposedly he's been in training
"in seclusion"
in Florida and is in close to the best shape of his life but
Cornelius Bundrage
will be no pushover for the IBF junior middleweight title. Spinks is simply too inconsistent at this point in his career to wager on.
As for Alexander "The Great," he is poised to make the leap into boxing's elite. He is young, fast and hungry and he's got a hometown crowd behind him, though there's a little worry the fight week hoopla might detract from his focus. His opponent is coming off a unanimous decision loss and hasn't fought in sixteen months. Still, Kotelnik (31-3-1) will be a challenge. He doesn't get knocked out and, as Jeremy Rutherford of the
Post-Dispatch
detailed yesterday, Kotelnik has plenty of
experience fighting in hostile environments
.
Alexander is the heavy favorite, with
the money line at a whopping -950
in his direction. Unless you have some insider info that tells you otherwise, bet big on St. Louis' finest to shine.
The Horse Race

The sixth race of the night on Saturday will be
the richest
in southern Illinois since the $250,000 St. Louis Derby in 2006.
And yet gambling addicts are trembling in fear.
Quarter horse races are nearly impossible to predict (but then again, so are most horse races) and there's nothing more crushing than betting big on a short race and seeing all your money slip away in a few brief seconds of racing.
There's no use pretending to know anything about the horses in the race. Here's
the list of entries on Fairmount's website
-- it looks like Bold Badon, Bigtime Feature and Bp Southern Mariah are the favorites out of the gate. The best horse name, though, has to be Wranglin Easy and it goes off at modest 12/1 odds. That's the pick, at least in this blogger's book.
Honestly, it would be a challenge to hit both Fairmount and the boxing match in the same night. The first post is at 7:30 p.m. in Collinsville and the undercards start at 5:30 at Scottrade (though Cloud-Johnson isn't until 9 p.m. and Alexander-Kotelnik follows shortly thereafter) so unless you're a true degenerate, pick one event and stick with it. Your wife -- and your wallet -- will thank you for it on Sunday.
*Hypothetically speaking, of course, if online gambling were legal