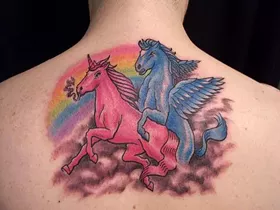 A bad idea, but way more fun than these others.
Okay, so I know things aren't great around here in Cardinal country just right now. The team is scuffling, the injuries are piling up, and we're all still a little peeved over
Ryan Ludwick
being traded. And I also know, given the time of year, that trade talk is still going to be rampant no matter what.
Sure, the non-waiver deadline is passed, but that just means one extra step for any potential deal, not a huge line of hurdles. It's only natural people looking at how the Cards might improve the squad to try and make a shambling, shuffling stretch run will throw out names of players they think will present upgrades.
However, that does not excuse the abject stupidity of some of the names being discussed.

I was driving in my automobile one day late last week, and I had the radio tuned to sports talk, since it is sort of my job. And on the radio was
Andy Van Slyke
, former
Cardinal
outfielder turned dumbass media guy turned
Detroit Tiger
coach, and he was discussing the Cardinals. I don't recall who the host of the show was; I was only about half listening anyway. But when the subject of trade targets came up, Van Slyke said something which really got my attention. He said
he
thought the best guy the Cards could go after would be
Adam Dunn
, someone to really upgrade the offense.
Now, I immediately began trying to figure out whether or not Van Slyke was serious, but he kept talking, expounding slightly on his Dunn idea, so I assumed he was. "Oh, well," I thought to myself, "It's just Andy Van Slyke. Guy has no idea what he's talking about anyway. Surely anyone with half a brain could see what a bad fit that would be."
Then, just yesterday, I was listening, once again, to the radio, tuned to whatever nonsense it is 101.1 has on in the afternoon, and D'Marco Farr, scion of jocks who don't understand sports half as well as they played them everywhere, said the exact same thing Van Slyke had said. He wanted Adam Dunn to upgrade the offense. But then it got worse.
When questioned about where Dunn would play, Farr's response was (and I'm paraphrasing here), "Well, in that situation I just say to Tony: you figure out how to get him in there. I got the guy, you figure out where to play him."
Thankfully, I was able to maintain control of the car, but only at the cost of a mild stroke, I will admit. (So if my typing looks funny, it's because my left hand no longer works. Thanks, D'Marco!) Just figure out how to get him in there?!
commons.wikimedia.org
Adam Dunn doing what he does best. Unfortunately, there's a bunch of other stuff he doesn't do so well that we would sort of need him to do.
​The thing is, these aren't the only two times I've heard Dunn's name. He's on the block, the Cards need offense, perfect fit, right? Message boards everywhere are loaded with trade possibilities just like this. The only difference is we can ignore internet crazies; when mainstream media guys start spouting off about how good an idea this is it's a little different. You're getting paid to do this job; shouldn't you put a little more thought into it than that? (And yes, you can argue I'm getting paid to do this, and many of you think I'm an idiot. However, I defy you to argue I don't think about the things I write, whether you agree with my position or not.)
So here's my question: are any of these people familiar with the concept of position? Y'know, like defense? And I don't even mean playing quality defense; my standards for an idea aren't that high. I mean the concept that baseball players, at least in the National League (which the Cardinals just happen to play in), players have to, between at-bats, go and stand somewhere in the field. So where, exactly, is Adam Dunn going to stand in the field when he's not at the plate?
Let's see...first base? No, that's taken, I think. Dunn is actually a pretty okay first baseman; or, at least, that's the position on the field where he hurts you the least. Stick him at first and he's a pretty valuable player. Not great, mind you, but it minimizes how much value he gives back with the glove. He's actually worked at his fielding at first as well, and playing full-time there seems to agree with him. He's having easily the best fielding season of his career, and that's great to see. Maybe he'll finally get some respect for just how good a player he really is. Of course, he still isn't quite as good as Albert Pujols (understatement alert), so putting him at first isn't going to happen.
Okay, so left field then. Oh, wait, that's right. We have a guy in left, pretty good, too. Name of Matt Holliday. And Matt, well, not only is he as good a hitter as Dunn, he's also an above-average defender in left. (His crotch is not a plus fielder, but we'll just let that go. K?) So he's worth as much as Dunn with the bat, and actually adds value instead of subtracting it in the field. So no go on moving Holly to the bench for Dunn.
What about right field? After all, we just traded away our all-star right field, and the Cards could certainly use a shot in the arm offensively. Well, see, there's a problem with that, too; Adam Dunn is an unmitigated disaster defensively in left field, one of the two least demanding positions on the field. Move him over to right, which is further up the defensive spectrum, and you're going to see defense to make you beg for the return of Chris Duncan. Seriously. Dunn played 22 games in right field for the Nationals in 2009, and according to UZR was worth -7.4 runs in those games. Now, defensive metrics are essentially meaningless in such small sample sizes, I know, but I've seen Adam Dunn play right field, and let me tell you: that number is all kinds of on the money. If you were to play Adam Dunn in right field the rest of the season he would be worth 15 runs on offense and cost you just that many on defense.
I suppose we could always put him in center. That would be kinda cool to see, actually, just for one game. The worst fielder in baseball playing one of the most demanding positions. High theatre, I say.
This is my point: the Cardinals literally have nowhere to play Adam Dunn. The notion of trading for him is so asinine it makes my head hurt just thinking about it. And don't even get me started on the idea of making him a bench guy. One, you don't give up what I'm sure the Nats would want for Dunn for a bat off the bench, and two, how much do you really think a pinch-hitter is going to impact the outcome of a third of a season's worth of games?
I will give Mr. Farr credit for this: he said several times he just wasn't sure the Cards had the pieces to make a big deal at this point. So he gets points for being connected to reality in that way, at least.
So I was already steaming from listening to this foolishness, when Bob Ramsey, one of the other noisemakers 101 has brought in to make sure their station doesn't get too very credible, declared the guy the Cardinals really need to go after is Chone Figgins.
Luckily this time I was sitting at a stoplight, so there was no near crash, but I did black out for a few minutes while traffic stacked up behind me.
Chone Figgins? Really? Chone Figgins? The same Chone Figgins who signed a 4 year, $36 million contract with the Seattle Mariners just before this season?
Chone Figgins is owed $26 million over the next three years. He is currently 32 years old and sporting a .636 OPS. For reference, Brendan Ryan, the gold standard for offensive ineptitude in 2010, has a .589, and Ryan at least has some correction coming to him; his BABIP is way low and should give him a nice bump as it moves back toward normalcy. He still won't be good, but he should improve at least a little just because.
So this is what we're going to trade for? Oh, and get this: Ramsey's explanation of why Figgins has been so bad this season is because the Mariners didn't bat him leadoff, instead choosing to leave Ichiro Suzuki at the top and put Figgins in the second spot. If they had just moved Ichiro to third and put Figgins first, this wouldn't have happened. (Of course, you then have to wonder if Ichiro is so weak-minded he would implode from being moved not just one, but two spots in the order.) That's right, Chone Figgins is so freaked out by trying to hit second in the lineup that he's been worth less than half a win this season. We bring him here, move him back over to third base and lead him off, everything will again be right in Figginsland. Then, come next year, you decide if you want him to be your second baseman, which, by the way, is where Chone is playing this season, and butchering it. He's below-average defensively at second, and has been almost every year he's seen time there.
Are you kidding me with this shit?
Could it maybe, just maybe, be that Chone Figgins is 32 years old and speed players age horribly? Now, I won't argue he'd probably be a little better getting out of Seattle's ballpark, one of the hardest in all of baseball on hitters, but in case you haven't noticed Busch isn't exactly an offensive paradise, favouring pitchers every year of its existence, albeit moderately.
Or hey, let's say for a second you bring Figgins over here to fill in at third and lead off, and it actually does work. He suddenly starts playing more like the guy he was with the Angels, and not the Pacific Northwest version. Does anyone honestly want to pay him $9 million a year over the next three seasons? This is a player who put up a few nice seasons for the Halos, with a couple 3+ WAR years and a couple more that were close to 3, and one monster outlier season of 6.1 WAR in his contract year, at age 31. Player right in his prime, walk year, gets lucky on balls in play, puts up an outstanding season. Problem is, do you really want to pay for the age 33, 34, and 35 seasons of that guy? I know I don't.
Oh, you're going to trade him? Ah, I see. Well, that's different then. I'm sure teams will just be lining up to take said aging player with the big contract and the young player skill set. Awesome idea.
Look, I understand we all want to improve this team, I really do. And I understand some days it's tough to think of stuff to talk about. Hell, there are days when I sit down to write a column and all I can think of is that old line about staring into the abyss and it stares back at you. But come on, people, can't we be a little bit smarter than this? Just a little?