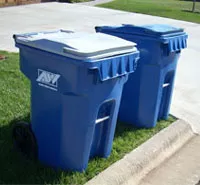 Coming to a neighborhood near you!
Just got off the phone with a couple of city officials who tell
Daily RFT
that St. Louis is indeed going forward with curbside recycling.
The recycling service will be part of the new pay service for trash pickup that the city is implementing to offset budget shortfalls. Beginning as soon as October, residents will be charged $11 monthly per household for trash collection.
Under the plan, trash pickup will be cut from twice a week to once a week to make room for once weekly curbside recycling. The recycling will be single-stream, meaning that recyclables won't have to be sorted.
The city will put blue Dumpsters in alleyways for recycled goods, adding to the brown bins now used for trash and green bins for yard waste. Residences without alleys will get blue, roll-out trash cans.
City officials are currently in the process of finalizing the contract for thousands of new, blue Dumpsters and carts that could begin arriving here in the next couple months.
Currently the city offers paid
curbside recycling in just a few neighborhoods
in addition to several drop-off centers spread across town.