Image via
Let's be Blunt -- the Tea Party didn't stand a chance.
The tea baggers don't mince words when it comes to
Roy Blunt.
Before yesterday's primary, a coalition of more than two dozen
Missouri Tea Party
organizations called the longtime Republican congressman "a career politician and Washington insider who has sold out his constituents for special interest money" and "an abomination of everything we have been standing up for." They said that they "do not endorse or even want Roy Blunt for our next Senator."
So that means that the influential grassroots conservative movement rallied the troops, stormed the polls, tapped power of democracy and voted in their preferred candidate,
Chuck Purgason
, right?
Wrong.
Blunt annihilated Purgason, winning all but one county.
Check the map from
the Missouri Secretary of State's snazzy website
: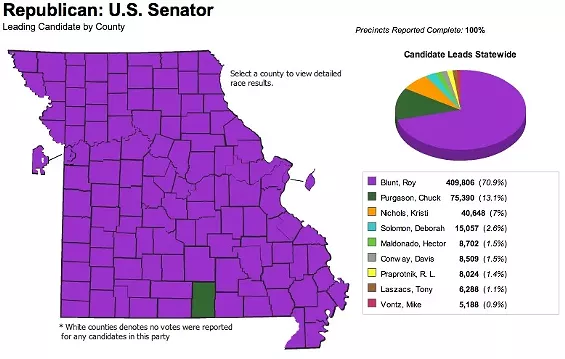 That's right: Purgason received just 13.1 percent of the vote statewide to Blunt's 70.9 percent. Granted,
voter turnout
was low -- a pathetic 13.5 percent in St. Louis -- but if the Tea Party is such a political force to be reckoned with, why couldn't they make yesterday's contest even remotely close?
And, the more intriguing question, since they loathe Blunt so much, will they be supporting his opponent, Democrat
Robin Carnahan
, come November?
Daily RFT has an email out to the
Franklin County Patriots
-- the leaders of the anti-Blunt crusade -- asking those very questions. We'll let you know if the tea baggers are about to become turncoats.