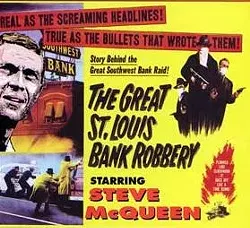 Sorry, Mr. McQueen. You and your boys just can't compare to the ATM Solutions robbers.
The suspect
arrested following a police chase yesterday
had approximately $250,000 in cash hidden away in the trunk of his Dodge Charger, according to this morning's
Post-Dispatch
.
Officials believe the suspect -- described by police only as a black male -- had something to do with
Monday's brazen robbery
of ATM Solutions in Midtown St. Louis. This morning the daily also puts a price tag on the amount of money stolen in the heist: a whopping $11 million.
Yesterday the FBI and St. Louis police surrounded a house in the 4000 block of Page where they believed other suspects to be hiding. After an all-day standoff, the FBI -- equipped with an armored vehicle -- shot tear gas into the home and raided the structure. No one was home and the feds spent the next hour or so removing items from the house.
More info as it becomes available...