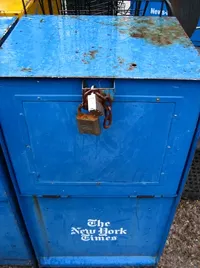 ​Anthony M. Streekfuss, known to most simply as Tony, is a jack of all trades: He acts as an early morning security lookout for businesses in St. Louis' Central West End, gossips with the locals, and spoils passing canines with the dog treats he has on his person at all times. As owner and sole staff member of The Planet's Daily News Kiosk, on the corner of Euclid Avenue and Maryland Avenue, Tony does it all.
He does everything. Everything, that is, except sell newspapers.

You've probably seen him there on the corner, on any given morning, surrounded by blue newspaper lockboxes emblazoned with periodicals' names, squinting out from under his faded olive green New York Times logo baseball cap. You've probably even seen him selling newspapers.

But not anymore.

Last Friday, he had three variations of the same conversation within ten minutes:
"You got the Post?'
"Nope."
"The Times?"
"Nope."
It's been two weeks now since Tony has carried a single copy of the St. Louis Post-Dispatch, The New York Times, The Wall Street Journal, Investor's Business Daily or The Financial Times. Instead, he's in his lockbox fortress hawking forlorn copies of People, Us Weekly, Lawyer's Weekly, TIME, and two copies of a crocheting specialty magazine called Afghans!.
Instead of some stick-it-to-the-man protest over the newspapers' editorial content (although Tony has voiced his dissatisfaction with the state of journalism, especially that in The Post-Dispatch, in a series of self-published op-eds entitled "Epitaph of a Major U.S. Newspaper,") the newspaperless newsstand appears to be yet another symptom of the flailing finances of the newspaper industry.
Tony's broke.

The long version of the story of Tony and the Planet's Daily News Kiosk's financial demise goes back more than two years, and according to Tony, involves several conspiracies, including a scheming paper delivery boy and an ex-wife who tried to poison him.
The short version is exceedingly simple: the STL Distribution, the company that supplies newspapers to the kiosk, has cut the number of papers Tony can sell. Meanwhile, STL is taking over distribution for more and more publications -- and since the company's rates are higher, the commission Tony receives for each paper sold has fallen by 54 percent in the past year, he says.

In mid-July of last year, Tony made a $265 profit in one week. In the last week he carried newspapers at the kiosk (also the week of his birthday, he is quick to share), a week in which he sold within 10 papers of his previous year's tally, he made only $113 and change.
"That takes 54 percent of my profit away from me," Tony says. "Multiply that by 52, which is a year, and that's $7,940 they're taking away from me, every year.
"Before I can pay my distributors, I have to pay my rent, pay my utilities, pay whatever bills I've gotta pay," he says. "One bounced check started bouncing another check ...The only thing I'm interested in right now is getting those bounced checks covered."
"Before I was able to get a handle on all that was going on, my bill got up again and they pulled the papers."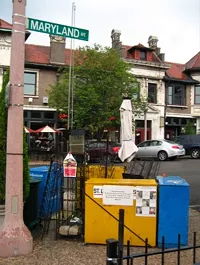 ​Tony and his business manager are currently brainstorming other items they can sell to save the newsstand, which Tony has been running for more than four years. Of course, they'd have to get permission to change their permit status; right now only paper periodicals -- magazines and newspapers -- are allowed to be sold at the kiosk.
They've considered petitioning the city for permission to sell scratch-off lottery tickets, but decided against it because "it would create one hell of a mess up here. People scratching off and just throwing them down instead of throwing them in a trash can. We were talking about selling cigarettes, but again, even though I'm a smoker, that entails a lot of different laws and a lot of paperwork, and I create enough paperwork for myself already.
"We're gonna find some way to move this forward. I don't know what it's gonna be or where it's gonna be, because right now I've gotta get through this dilemma."
Area supporters want to rally and throw a fundraiser for the kiosk, as they did earlier this year, but Tony waves off the idea, saying that extra funds would only be a band-aid on the bullet hole. He estimates that with the current 13 percent commission he makes on each paper, it would be barely more than a month before he fell back into debt with his distributors -- stuck in the same situation as he's in now.
Tony and the kiosk are facing the same quagmire as the very companies that print the newspapers he can't afford to buy: How can you make money off a product when you can't even afford to make the product in the first place?
"Even if we paid the bill, we'd be back in the same situation within five weeks," he says. "If we can't get something equitable going with them so that this can survive ... I'm not asking to be rich, I'm just asking for something I can live with. Thirteen percent is not livable."
As for the Central West End, where he works and lives, Tony says that he will continue to stand at his kiosk, rain or shine, newspapers or no newspapers, and serve the neighborhood that he says has "literally become family" to him, passing out dog treats and sharing gossip.
"I have got my friends here, I've got my supporters here, and I've got my customers here." Tony says, setting his coffee down on the empty New York Times lockbox in front of him and leaning back in his swivel chair. "And then I've got some who are a combination of all three."