St. Louis police report that they were re-canvassing the neighborhood surrounding the 4400 block of Evans this morning when they spotted a Dodge Charger they believe may have been involved in
yesterday's robbery of ATM Solutions
.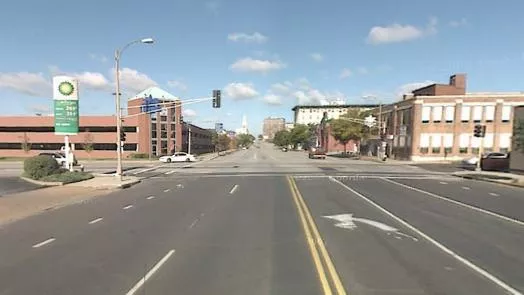 The suspect was arrested after crashing his Dodge Charger at Compton and Olive.
Police report that they followed the car and the vehicle attempted to flee from officers. The Dodge Charger was then involved in an accident at Olive and Compton. The driver got out of the car and ran but was taken into custody after a short foot pursuit. The driver, a black male, was then taken to an area hospital for treatment of injuries relative to the accident.
The police are not naming the suspect until if/when warrants are issued. The FBI remains in the area of 4000 block of Page relevant to the investigation. An armored car found stolen during the heist was recovered yesterday in the 4400 block of Evans.