St. Louis's newest
coworking space
opens for business today at the
Shell Building
downtown near Locust and Tucker. It's a 10,000 square foot space formerly occupied by a creative agency.
In the last several years, non-traditional employment has become more common, owing to a greater number of freelancers and contractors who find themselves working at home, in their cars or coffee shops. A few years ago, a group of San Francisco freelancers came up with the idea of creating a group workspace where unattached workers could gather, share space and an Internet connection to create some of the atmosphere and social interaction that happens in a more traditional work environment. There are lots of obvious benefits to this, besides just being able to get out of the house once in a while, like the possibility of working side-by-side with people with complementary skills who could offer advice and collaboration.
Rates at coworking spaces tend to be more affordable than traditional office space. The Shell buildings rates range from $100 to $450 a month and
the Nebula
coworking space on
Cherokee street
has private offices for $250 a month.
Last Thursday, the downtown coworking space held a
Geek Night
meet-up where students, designers, developers and entrepreneurs were invited to gather and pitch ideas. We used the opportunity to take some snaps of the space.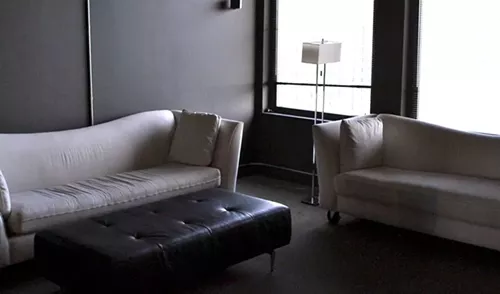 Some times you need to lounge while you work
View from St. Louis Coworking