Update 12:09 p.m. with official incident summary from St. Louis police.Update
:
Police Make Arrest in Case
Four men dressed in all black and carrying automatic weapons -- including an Uzi and AR-15 -- held up an ATM company early this morning in Midtown St. Louis. The crime occurred around 5:30 a.m. this morning at ATM Solutions in the 3700 block of Grandel (below).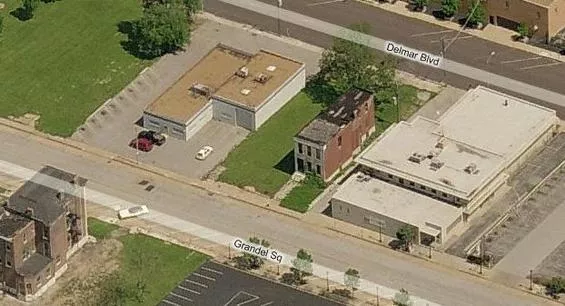 According to reports, the men ambushed security guards when they arrived at work this morning. The thieves apparently knew that it required two employees to open the company's vault. The bandits loaded up the money into one of the company's armored vehicles and drove off -- followed by an orange Toyota Scion. The security guards were left bound with duct tape inside the vault.
Police recovered the armored car abandoned around 7:30 a.m. this morning in the 4400 block of Evans in north St. Louis. According to some reports, the thieves may have made off with as much as $5 million.
From the St. Louis police...
INCIDENT: Armed Robbery
LOCATION: 3721 Grandel Sq.
DATE/TIME: 08/02/10 @ 5:00 a.m.
SUSPECTS: 4-Armed Masked Men

At around 6:05am, The Metropolitan Police Department received a 911 call that an armed robbery had occurred at ATM Solutions located at 3721 Grandel Sq. Officers responded to the scene and located employees of the company who gave the following account of the incident.

At about 5:00AM, a Security Officer reports to work and as he is entering the building, four masked men armed with assault rifles and handguns force their way inside. The men disarmed the Security Officer and awaited the arrival of a second Security Officer, as two people are needed to open the safe which stores the money. The second Security Officer arrives about 5:30 AM he enters the building and is confronted by the armed suspects. His weapon is taken as well. The two Security Officers are forced to open the safe and then both are tied up. The suspects load an undetermined amount of cash into one of the company's armored vehicles and fled the scene. At about 6:00 AM a supervisor arrives to work and enters the building, once inside he locates his co-workers in an area of the building, tied up. He immediately contacts police. No injuries were reported.

The armored vehicle was recovered at 7:32am in the 4400 block of Evans. A black Pontiac Gran Am, which may have been used in this incident, was recovered in the 3700 block of Dr. Martin Luther King Dr. at 10:15am. The suspects have not been located.

Anyone with information about the crime is urged to call CrimeStoppers at 1-866-371-TIPS (866-371-8477). Callers can remain anonymous and may be eligible for a cash reward.

The investigation is being handled by the Metropolitan Police Department and the FBI.