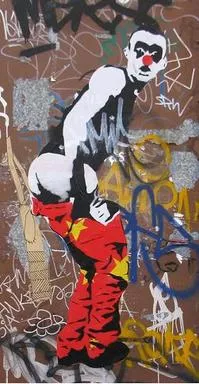 You know what time it is kids!? It's time for Daily RFT's
Ass Clown of the Week
.
[Emoticon alert!!] Hopefully we can have as much fun today as we did
last week
!
;
-
)
That
was
fun, wasn't it?
:
-
(
This week's nominees...
1.
Marilyn Cork
: The area woman charged with
running over her ex-boyfriend
in the parking lot of the St. Louis County Courthouse after the two had just argued against each other in small-claims court. Cork may have been upset that her ex brought his new fiance to the hearing.
2.
Kings of Leon
: The rock band abruptly ended its show Friday night at Verizon Wireless Amphitheater after allegedly getting
shit on by pigeons
nesting in the rafters.
3.
Leon Pullen
: The former Uplands Park police officer who pleaded guilty to civil right violations for
sexually assaulting and stealing from prostitutes
while he was on duty.
4.
Phillip Bandy
: The founder of the Fulton-based Battered Mother's Resource Fund (BMRF) was told to
shut down his operation
this week by the Attorney General's office. The AG says that BMRF solicited donations but never implemented any of its programs and gave faulty information, telling mothers that other support centers would try to take their children away.