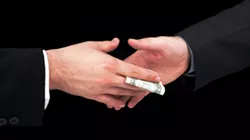 Updated 4:10 p.m. with comments from St. Louis Liquor Commissioner Bob Kraiberg.
An eight-year veteran of the St. Louis Excise Division was indicted on bribery yesterday for soliciting money in exchange for helping a bar owner win a liquor license.
Note:
Read entire indictment below.

According to the indictment,
James Allen Morgan
solicited an unnamed entrepreneur ("John Doe") with pledges to help him get a license for an unnamed spot in the city's 7th Ward (encompassing downtown, Lafayette Square and Soulard) that had generated complaints under three different owners.
In exchange for ensuring that John Doe received a liquor license, Morgan, 41, allegedly asked to be hired as manager of the new bar for an annual of salary of $60,000 and a "signing bonus" of $10,000 for the purchase of an automobile. He also wanted payments of $600 per week prior to the bar's opening, according to the indictment.
Based on conversations included in the indictment, it appears that the bar owner wore a wire during some of his discussions with Morgan that lasted from about November 1 to December 31 of last year. During the conversations, Morgan suggested he could get liquor commissioner Bob Kraiberg to approve the bar and also sway Alderwoman Phyllis Young to play ball.
Per the indictment:

John Doe: And you'll make sure Phyllis [Young] doesn't f--- with us?


Morgan:

Yeah, Phyllis [Young] won't fuck with us, really honest and truly.

* * *


Morgan: Bob [Kraiberg] will call me before he'll send [liquor control officers] Gwen and Seymour in, that's what you're getting with me, early warning. That's the key.

Later on, according to the indictment, Morgan agreed to be paid $350 a week prior to joining the new bar as manager. But that plan backfired when John Doe got his liquor license on December 16 of last year and Doe called Morgan to tell him that he can neither pay him or hire him.
Per the indictment:
John Doe: We just don't have the money to guarantee you anything...

Morgan: I understand that ...it just appears to me, I feel used is where I'm at. I feel like that most of the things that I did were on good faith, and now that the license is here and has been approved, I'm getting kicked to the curb.

Morgan: So where do we stand? You're going to open it on your own, by yourselves, I'm not going to be part of it?

Morgan: Just pay me for what we agreed up to this point ... $1,400 even, and then I'll walk away ... Let's just say $1,000 even on Tuesday, and we're all cool...

United States Attorney Richard Callahan emphasized in a news release today that there was no evidence to support Morgan's claims of improper influence over Kraiberg, Young and others.
Kraiberg tells
Daily RFT
that Morgan was a model employee who gave notice March 1 and left at the end of that month. Kraiberg says he didn't know anything about an FBI investigation until he was contacted by the feds within the last few months -- following Morgan's departure.
"I knew for a while that Morgan was looking for another job," he says. "I guess he thought his work here could translate to working in the bar business."
Kraiberg adds that he does not know the unnamed bar owner or tavern described in the indictment. "I do know, though, that no single person can ensure a bar gets its license. It requires approval from lots of people -- particularly the neighborhood."
James Allen Morgan Indictment