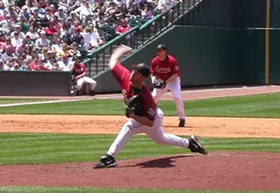 So after a full week and a half of serious, intense speculation, discussion, and coverage, the
Roy-Oswalt
-to-the-Cardinals trade is...right about where it was a week and a half ago. A quick rundown of the pertinent facts:
The Houston Astros want to move Roy Oswalt.
Roy Oswalt has a full no-trade clause.
Roy Oswalt makes a lot of money.
Roy Oswalt seems to want to come to St. Louis.
The Cardinals want Roy Oswalt, and bad.
The Cardinals and Astros play in the same division.
Oswalt reportedly wants his 2012 option picked up to waive his NTC.
So, given all those facts, where do we really stand in terms of a possible deal?
Since the very beginning of the Roy Oswalt talk, when it really seemed more like idle speculation than a very real possibility, I've been fairly skeptical the Cardinals are really in a position to pick him up, and I remain skeptical. I know he's fairly explicitly stated he would prefer to go to the Cards, but I'm just not sure that really matters all that much.
The problem, of course, is largely the contract Oswalt comes along with, though there are several other, smaller issues sticking out of that one like pins in a pincushion. The smaller issues are things like the fact the Astros may not want to look at Oswalt in the same division the next couple seasons and things like that. Real issues, sure, but definitely not anything which couldn't be overcome. The contract, though, and just what that means in terms of Oswalt's value, is another matter entirely.
What it all boils down to is this: Roy Oswalt's contract pays him almost exactly what he's worth, and maybe even a little more. If he's as good as he is this season, it's pretty close to right on the money; if he's closer to the guy he's been the last two seasons, Roy is a little overpaid. What that means is that any team with Roy Oswalt on their roster is paying him exactly what he's worth; therefore, there's really no extra value to be had.
What that also means is that when the Astros are trying to move his contract, he really isn't worth any more than the value of the contract itself, and any talent the acquiring team sends the Astros' way is essentially overpaying.
Look at it this way: say a neighbor of yours, a guy you sort of know from a few blocks over, comes up to you one day and says he's looking to unload his house. He just can't really afford the place, he says, and he doesn't actually need all the space the way he thought he would when he bought the place. Unfortunately, he's having a hell of a time selling the place at a profit, because he's got $200,000 left on the mortgage note, which just so happens to be the exact value of the house. He was hoping to get more for it, but no one seems to want to pay more than market value.
At this point you say to yourself, "You know, I could really use a bigger place, and his house is nicer than my place right now on Hawksworth Drive. Maybe I should check into this." So you offer to just assume the payments from him right now to get him out from underneath the place. No muss, no fuss, he can move on and see if he can't find something more suitable with his money.
Well, needless to say, he's interested. Just as the two of you are getting ready to shake hands, though, he says, "'Course, I'm gonna need some more than just you takin' the payments. I mean, hell, this is a really nice house."
"Yeah, I suppose it is a nice place," you agree, "but it's only worth what you owe. Why should I pay you more than it's worth?"
"Well, I'm thinkin' it's such a nice place I'll need that real nice jet ski you got, and maybe that antique curio cabinet you bought your wife for Christmas a couple years back, and that property down south too."
"What?" you exclaim in disbelief. "I just bought that property last year; in fact, I haven't even had it long enough to get it properly appraised! There's no way I could sell that! Hell, I'm pretty sure there's oil on it!"
"Ah, what are you talkin' about? You don't even have a house built there yet! You may never even use that property for anything. You want my house, I think that property is fair comin' back."
And so on. He wants to unload something he can't afford and doesn't really need, and he owes as much as it's worth. You're willing to take on the cost of the place, but not give him a bunch of extra stuff when the house isn't worth more than you're already going to be paying. It would be a different story if he wanted to kick in some cash toward the payments, of course, but that doesn't seem to be in his plans.
Alan Greenspan could probably explain this all much better than I am.
​It's not a perfect metaphor, of course; for all I know, it may not even be a good one. But that's basically what we're looking at in this deal. (Shelby Miller is the property with nothing built on it yet but just might have oil.)
I understand there are plenty of other forces at work here; there are clearly more complexities in a dynamic situation like a baseball trade than when dealing with static commodities (though I did conveniently ignore the concept of equity in order to avoid having to break out an econ textbook), but at least in theory it works. The Astros want a bunch of stuff for Oswalt in order to move him; the problem is, they're already getting what they want by getting his contract off their books. Taking him on at his current salary creates no excess value for the acquiring team, so why would they pay a ransom in talent for the privilege of paying him 16 million a year?
One of the big problems there, of course, is that very few fans actually understand how value works; it isn't just how good a player is on the field, it's also how good you're paying him to be. If you're paying him to be a 2 win player and he's actually worth 6, that guy has a ton of value. If you're paying him to be a 6 win player and he's worth 2, that guy really isn't worth much of anything. However, in the eyes of fans, a player is worth whatever he does on the field only, and so the very idea of trading away ROY OSWALT for anything less than a huge haul of talent is treasonous.
So that's where we are after however long it's been now on the Oswalt speculation train. The Astros want to unload his contract, but they also want a haul of talent one would expect to give up for a Cy Young-caliber pitcher. The Cards would love to have him, but certainly aren't willing to give up all their stuff if they have to pay him the full amount he's owed. (And worth.) Maybe the jet ski (Allen Craig?), but not the vacation property and the wife's good earrings. The Phillies seem to be in on Oswalt, but he's seemed very lukewarm about going to Philadelphia, and he can block any deal he wants. So in the end it may come down to whether the 'Stros decide it's better to get something than nothing, or decide they're happy just holding on to Roy and his salary if someone doesn't wow them. He's no longer an elite pitcher, just a very very good one, but they're going to want talent in return befitting an elite pitcher with an affordable contract.
And that's why I remain skeptical Oswalt ends up in a Cardinal uniform. It would be better for the Astros to take the best deal they can get from the birds (Allen Craig and Mitchell Boggs, something like that), and invest the payroll they're saving into the draft or a couple young first-time free agent types, but I doubt they see it that way. I would bet they go down to the wire insisting on Shelby Miller and Jaime Garcia and Oswalt finishes out another season high in the ERA standings but well out of the playoffs.
Or, maybe John Mozeliak goes ahead and trades Miller and we can argue in a few years which was worse: Oswalt/Miller or Mulder/Haren.