UPDATE:
Chad Garrison responds here with interviews of both attorneys in the
Girls Gone Wild
debate and a review of the actual film in question.
Dear voters,
As managing editor of this newspaper, I come before you with an admission: Chad Garrison screwed up in his nominees for this week's
Ass Clown of the Week
.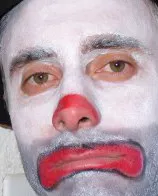 Here he is, folks, Chad Garrison!
In a rush to leave town for a bachelor party -- yes, a bachelor party; I honestly couldn't make this stuff up -- Chad chose four nominees for this week's poll. In a display of incredible (and now acknowledged) stupidity, Chad nominated "Jane Doe," a woman who sued the
Girls Gone Wild
franchise.
Doe,
as Chad reported here
, unwittingly appeared in one of the infamous productions after her friends pulled down her top and exposed her breasts, without her consent, while she was at a dance club. She sued after learning that
Girls Gone Wild
had used the footage -- again without her consent -- but a St. Louis jury ruled against her yesterday.
Obviously, it's clear that this woman isn't an ass clown. The real ass clown is the jury.
Seriously, Joe Francis and his ilk have made millions (billions?) off the antics of young women who are too drunk, or too stupid, to realize they're being exploited. It is surely not too much to ask that in cases where they've profited off someone who
didn't
consent -- someone who told her friends "no!" as they exposed her breasts -- that they should be forced to pay!
And who better to receive some compensation than the very woman they exploited?
So, yes, we can all agree that Chad screwed up. Even Chad agrees that he screwed up: It was mistake to include Jane Doe on the list of choices for this week's Ass-Clown poll. It was an even bigger mistake not to include the jury.
In light of that, we have now amended this week's poll to include a new nominee for Ass-Clown of the Week: Chad Garrison.
It's worth nothing that Chad has won this dubious honor once before. (It was, in fact, the Daily RFT's
inaugural Ass-Clown poll
, back in April 2009.) I have every confidence he'll win it again.
Hell, this week, I'll be voting for him myself.