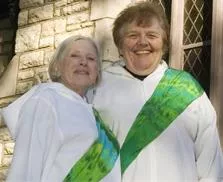 Photo: Jennifer Silverberg
The Revs. Elsie McGrath and Rose Marie Hudson
By now you've probably heard how the Vatican
unveiled sweeping changes last week
regarding its policies on sexual abuse and sexuality within the Catholic church.
On one hand, the Church increased efforts to out priests accused of sexual abuse by increasing the statute of limitations in which the church will investigate such claims from 10 to 20 years. On the other hand, the church also classified the ordination of female priests as a "grave crime" against the Church -- on par with pedophilia.
Curious as to what one of St. Louis' three female Catholic priests thought of this new policy, we called up the
Rev. Elsie McGrath
of
Therese of Divine Peace
. As you might expect, the good reverend wasn't too happy.
"We find it very repugnant and extremely misogynistic," says McGrath, who was
ordained in 2007
at a ceremony in a St. Louis synagogue after the St. Louis Archdiocese refused to sanction the event. "At the same time it's kind of interesting that they would be so unaware of the world to put such a statement out there. It's more of the same with the Church viewing women and children as second-class citizens. It's still all about protecting male priests."
In McGrath's view, the Church's decision to increase the statute of limitations for pedophile priests is also disingenuous.
"They didn't change anything," she says. "Anyone who knows or works with people who've been sexually abused knows that the suffering doesn't go away after 20 years. Sometimes it's repressed for that long. [See this week's
RFT
feature
Sins of the Father
for more on that.] Besides, the criminal prosecution is still up to local authorities. No, they're not doing anything really to understand the impact on people. They're certainly not being pastoral."
McGrath does, however, see a silver lining in all the attention female priests have received since the Church issued its edict last week. "I think it will garner us (women priests) a lot more support," she says.
McGrath and fellow female priests -- Rev.
Rose Marie Hudson
and Rev.
Marybeth McBryan
-- conduct a Catholic mass Sundays at 5 p.m. in the Hope Chapel on the grounds of the First Unitarian Church in the Central West End.
P.S. McGrath tells
Daily RFT
that she hasn't heard anything from the St. Louis archdiocese since June 2008 when former archbishop
Raymond Burke
threatened to sue her
for running a classified advertisement in the
St. Louis Post-Dispatch
under the category "Catholic services." "I think they realized that the term 'Roman Catholic' is not copyright protected," says McGrath.