When Tracy Joseph Dennis went to trial on misdemeanor charges of assaulting a law enforcement officer in March 2009, he wanted to introduce as evidence the presence of cameras at St. Louis' Central Patrol Station.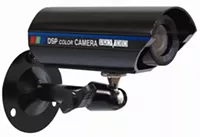 At the cop shop, the cameras don't work.
That seems relevant enough: The Central Patrol Station is where Dennis, 41, supposedly committed assault. If prosecutors didn't have the alleged attack on camera, that might suggest the officers were lying.
But Judge Elizabeth Hogan barred Dennis' attorneys from so much as mentioning the cameras' presence. And, this week, the court of appeals upheld Hogan's ruling.
The unanimous decision affirming Judge Hogan was released Tuesday by the Missouri Court of Appeals Eastern District.

The opinion, written by Presiding Judge Glenn A. Norton, explains that prosecutors had argued that it would be "confusing to the jury and unduly prejudicial to the state because it created a belief that the State was keeping evidence from the jury."

But as Norton explains, however, there was no conspiracy here -- merely incompetence.

We know this, he writes, because Tracy Dennis actually faced TWO different trials for assaulting a law enforcement officer at the Central Patrol Station. The two cases went to trial within days of each other. And, at the first trial, Judge Hogan had allowed evidence of the cameras to be admitted.

"In response to testimony," the appellate decision explains, "the State called an officer to testify that although there were cameras in the station, these cameras were old and outdated and never recorded or operated." Oh.

Hogan subsequently ruled in the next day's trial that the testimony about the cameras was inadmissible -- the risk of confusing or misleading the jury outweighed the value of the testimony.

"We find no abuse of discretion," Judge Norton concluded.

Moral of the story: If you're going to tussle with a cop, do it in a place where the cameras actually work. In light of the details in this appellate court opinion, we do not recommend the Central Patrol Station.