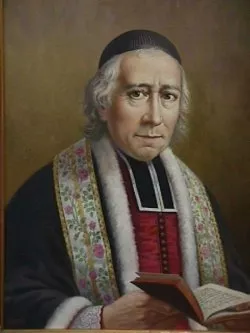 Fr. Chaminade: Miracle worker?
Rachel Lozano was 15 when she was first diagnosed with a rare form of cancer known as Askin's tumor. Three times she underwent painful treatments -- chemotherapy, radiation, stem-cell replacement -- only for the cancer to return stronger than ever.
In 2000, Lozano flew from St. Louis to Rome to attend a ceremony honoring Father William Chaminade, a French priest who died in 1850 and for whom a suburban St. Louis prep school takes its name. While in Rome,
Lozano tells KTVI
that she felt a strong connection to the deceased priest and began praying for him to cure her.
The prayers continued, even as Lozano's cancer continued to eat away at her body.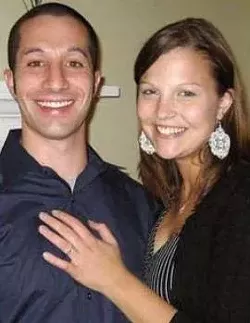 Rachel (Baumgartner) Lozano and her husband, Gabe
Back in St. Louis Lozano was given just a few weeks to live and doctors decided on one last surgery to try to remove the cancer. Cutting open her body, the surgeons found the cancer dead. Six years later Lozano remains cancer-free -- a miracle she attributes to her prayers to Chaminade.
This week the St. Louis Archdiocese concluded and investigation into the alleged miracle, and it agrees. The church plans to send its findings to the Vatican in support of Fr. Chaminade being granted sainthood. Meanwhile, the archdiocese is holding a prayer service tonight at Our lady of the Pillar Catholic Church in Frontenac to mark the end of its investigation.
Joining in on the service will be Lozano. "When I didn't have anything else, I had prayer and the Church," she says.
And now, what you've all been waiting for...