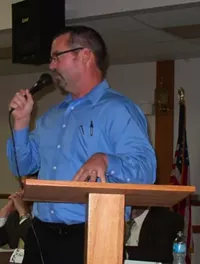 At a St. Charles County Council meeting last night,
Councilman Joe Brazil
came prepared with statistics in hand. In his
push to ban bikes from certain rural two-lane roads
in the county, Brazil cited some alarming numbers: 14 fatalities in the last 16 months, as well as "over a hundred serious vehicle accidents," owing to the lack of shoulder on the roads.
With those numbers, that would be nearly a death a month and a serious accident a week for nearly the last year and a half. Wouldn't someone have noticed if bikers in the cyclist-heavy county were being picked off one-by-one?


With that in mind, we gave Brazil a buzz this morning to ask him the names of bikers who had been killed on the roads -- if bike fatalities are this much of a problem, maybe the ban shouldn't have been tabled for another month, as it was at the meeting last night.
As it turns out, exactly NONE of the fatalities Brazil mentioned were bikers. Holy misleading use of statistics, Batman!
"None of the fatalities were bike-related," Brazil tells Daily RFT. "There have been serious accidents caused by bicyclists, though. People come over a hill at 55 mph and rather than hit a bicyclist, they drive off the road and hurt themselves. The roads are too dangerous for cars, which would suggest to me that they're too dangerous for bicyclists, too."
Suddenly, it becomes a whole new issue: if the 9-foot-wide, shoulder-less roads are too dangerous for even cars to drive on, why haven't they been improved for safety reasons before now?
Why try and blame the problem of crappy roads on bikers (MODoT, by the way, says
a bike ban in the county would be unenforceable
), when it's the roads themselves that are causing accidents?
Brazil says that a $10 million project to widen and add shoulders to the roads would be underway by next year, but that he still wasn't sure he'd support biking in the area. He says one idea is to create bike lanes in the area, but "what we're trying to do here is figure out what a reasonable solution to this is.
"Is it reasonable to have bikes out here?...Or do we just strongly recommend that they stay off these roads, please?" ponders Brazil.