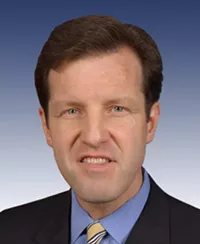 Carnahan: Says he wants answers to "deeply disturbing" allegations.
The House Veterans' Affair Committee is holding a hearing today in the Eagleton Courthouse looking into
revelations made earlier this month
that as many as 1,800 people may have been exposed to hepatitis or HIV from improperly cleaned dental equipment at the John Cochran V.A. Hospital.
Congressman
Russ Carnahan
called for today's hearing, which will include testimony from affected patients, the director of the Cochran VA center,
Rima Ann Nelson
, and
Earlene Johnson
, the former Cochran employee who produced email evidence that she told a supervisor about problems with the dental equipment sterilization process as early as August 2009 -- six months before the VA addressed the problem.
The hearing begins at 1 p.m. and is open to the public on a first-come, first-served basis.