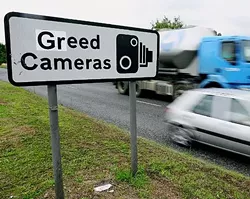 'Cause really, isn't that what they're all about?
Charlack is pushing ahead with the use controversial speed cameras along its quarter-mile section of Highway 170 in north St. Louis County.
The cameras began issuing tickets last week. Charlack's mayor and police chief tell the
Post-Dispatch this morning
that the sole purpose of the cameras is to get people to slow down on the inner-belt. Critics -- including St. Louis County police chief Tim Fitch -- contend that the cameras are all about generating revenue with $100 citations.
Just last week, Fitch
reiterated his displeasure of the cameras
, equating them to acne and suggesting that they're all about money with municipalities motivated by the "millions of dollars" in possible fees.