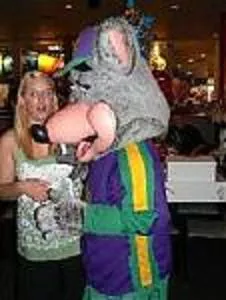 Remember the case of the Chuck E. Cheese mascot
accused of grabbing a woman's breast
during her visit to a south St. Louis County restaurant?
Daily RFT
was the
first to bring you the scandalous photo
(right) of employee
William Thigpen
(dressed as a giant mouse) allegedly touching the bosom of 22-year-old
Jennifer Sorbello
in the summer of 2008.
After wending its way through court for more than a year, attorneys with Chuck E. Cheese filed settlement papers last month.
Sorbello's attorney had sought unspecified damages for assault and public humiliation. It's unclear exactly how much Sorbello received from the restaurant chain. Though as
On Point News
reports, a recent ruling in the case may explain why Chuck E. Cheese attorneys decided to settle.
Turns out, Thigpen may have a problem keeping his paws to himself. Last month the judge in the case ruled that Sorbello's attorney could submit into evidence a complaint that another Chuck E. Cheese employee had made about Thigpen.
Yep, it seems Chuck E. Cheese may have been ratted out by one of his own.