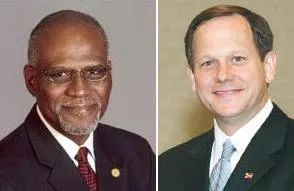 Dooley and Slay: Not the black sheep of the family.
So, I'm thinking St. Louis County Executive Charlie Dooley is probably going to win this one, but we'll throw it out to you -- the reader -- to decide.
Dooley and his city counterpart, Mayor Francis Slay, both tangentially made news yesterday for the criminal actions of their relatives.
This week, St. Louis County prosecutors charged
Timothy Dooley
, 49, with
possession of a controlled substance
stemming from a February traffic stop in which the county exec's brother was allegedly found to be in possession of .14 grams of crack cocaine.
Also this week St. Louis prosecutors charged
Benjamin Slay
, the mayor's 27-year-old nephew, with
aggravated stalking
after he violated a protection order on two separate occasions.
So who's it going to be? Continue on to cast your vote.