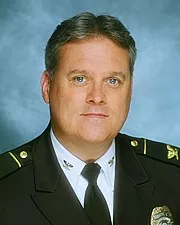 Tim Fitch: Won't zit zilent.
St. Louis County's top cop had some more entertaining things to say this week about the use of speed cameras in Missouri.
Speaking to KDHX's host D.J. Wilson on Monday, county police chief Tim Fitch referred to the cameras as special kind of irritant -- acne.
"You're going to see these cameras pop up like pimples overnight," warned Fitch, who
made headlines in March
when he came out against the use of the cameras in Charlack.
Fitch, a guest on Wilson's
Collateral Damage
went on to say that he foresees many more cash-strapped municipalities using the cameras in the next year. The earliest the Missouri Legislature could put an end to the use of the devices would be August 2011.
"Between now and next August you're talking about millions of dollars and that's the incentive," said Fitch.
Last February state representative Michael Corcoran (D - St. Ann) filed legislation that would
limit the use of speed cameras
. His bill, however, never made it to the floor for a vote.
In June Country Club Hills became the third
north county surburb
to use the controversial speed cameras. Listen to Fitch's interview on KDHX
here
.