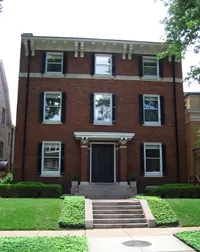 Kase Wickman
The Love Song of J. Alfred Well-Pruned Hedges
This is the way the world ends
This is the way the world ends
This is the way the world ends
Not with a bang, but with a mortgage payment
So read the closing lines of poet T.S. Eliot's famed "The Wasteland." Right? Right? Uh...
Anyway, if you're an Eliot aficionado and have dreamed of someday living in his boyhood home in the Central West End, well, better luck next time. The three-story 1905 Federalist style home, at 4446 Westminster Place, is under contract. Its listed price is $645,000.
Eliot lived in this house when he wrote his first poem at the age of 15, a school exercise which was later published in the Harvard Advocate, the university's student magazine. Ugh, some poetry prodigies are just such show offs.
Included in the asking price are two honking big plaques marking the house as a historical site and the poet's former home, one round one in the sidewalk (see picture) and another right next to the doorbell, in case visitors have somehow missed out on the fact that you live in a Very Important And Literary Place. There are also 68 windows and "wonderful light" in the house, according to the listing, but really, home values are mostly measured in plaques these days.
No word on whether the house is being snapped up by an Eliot enthusiast, but we here at Daily RFT can think of at least one person who probably would be less than pumped to move in: Eliot. He moved to the United Kingdom and renounced his U.S. citizenship in November of 1927.
Whether this spooky little cat statue currently hanging out on the front porch is part of the parcel, we're not sure. Potential dealbreaker, folks. Check it out: