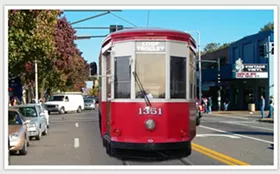 Clang clang clang will go the trolley!
It's official: $24 million in federal funds have been secured for a trolley system connecting
The Loop
to
Forest Park
.
Joe Edwards
, the ponytailed Pope of U. City, just told
Charlie Brennan on KMOX
that the
trolley path
will start on Delmar near the
lions
lion and tiger pair
, run east to Debaliviere, then head south to Forest Park. Only some of the fixed-track trolley line with have power cables overhead.
According to
Congressman Russ Carnahan
's office, there's a press conference going on as we write this. Details to follow.