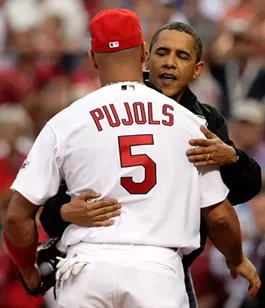 At least one Missourian knows how to welcome the POTUS with open arms.
Q: How does the Show-Me State welcome the President of the United States?
A: By filing a federal lawsuit challenging the health care legislation that currently stands as the crowning achievement of his first term in office.
Yes, on the eve of
President Obama
's latest visit to Missouri,
Lt. Governor Peter Kinder,
Republican,
went to court in Cape Girardeau
and argued that the federal government doesn't have the right to require Americans to have health insurance.
On the bright side,
Robin Carnahan
, the leading Democratic candidate for the state's vacant senate seat says she's not ashamed to be seen in public with the POTUS. So he's got that going for him, which is nice.
The
New York Times
has a nice
overview of Obama's scheduled visit
tomorrow to a Kansas City electric vehicle company, where he'll discuss the economy with factory workers.
In the story, the
Times
poses several interesting questions about the underlying purposes of the trip. Is the President still peeved that he didn't win Missouri in the 2008 election? Is he already starting to campaign here for 2012? And what impact will his appearance tomorrow have on the senate race between Carnahan and
Rep. Roy Blunt
?
The answers, it seems, are yes, maybe and nobody really knows.
In reference to the latter, a spokeswoman for the National Republican Senatorial Committee claims that Carnahan, "can't run from her support of Obama's unpopular and costly health care bill, his massive stimulus debacle and his tax-and-spend economic agenda in Washington."
Carnahan, however, will appear with the Commander-in-Chief at a "grass-roots" reception at the Kansas City Marriott and attend a $1,000 per plate fundraiser luncheon with him. Her spokesperson also said that, "The president is always welcome, and we are pleased to have his support on the campaign trail."
Partisan bickering aside, the highlight of the story has to be
Gov. Jay Nixon
slipping some British slang in with his Missouri twang. Check it out:
"[Missouri] intrigues him," Governor Nixon said last month, ticking off by memory the visits Mr. Obama has made. "I think the complexity of the state intrigues him, too, as a microcosm of the country."

Mr. Nixon said he could not recall any particular conversations with Mr. Obama about his re-election hopes, but he described the president this way: "I do know he's a competitive chap."

Read the whole story
here
.