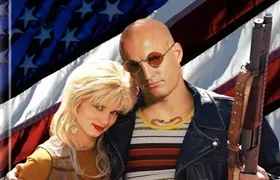 Police found a copy of "Natural Born Killers" in Davis' house.
Most Missouri Supreme Court
opinions
are snoozers, but the
one issued Tuesday
on the
Richard Davis
case has to be one of the most riveting -- and horrifying -- in recent memory.
Our state's high court is upholding the death sentence of Davis, a man from the Kansas City area who in 2006, along with girlfriend
Dena Riley
, raped and tortured and suffocated
Michelle Spicer
on videotape.
These were some truly sick individuals.
After setting up the camcorder, the couple penetrated the young woman in every possible orifice while beating her. She apprently died while Riley was sitting on her face.
Riley reportedly got upset about thsi. Davis, however, started playing computer games. He then put her in a bleach bath to get rid of any DNA evidence. Hours later, as the corpse was decomposing in the tub, he went to a cousin's graduation party, where a photo shows him smiling and having a good time.
Click here for the
full opinion
. The action starts on page eight of the PDF.