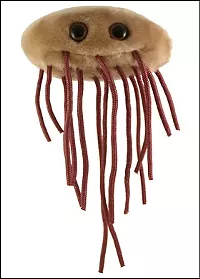 E. coli: Shit looks frightening even when it's a stuffed toy.
Looking for someone to blame for the
E. coli scares at the Lake of the Ozarks
?
Look no further than the Grandview Condominiums. Today Missouri Attorney General Chris Koster announced that he's filed a temporary restraining order as part of a lawsuit filed against Grandview and its president Michael Petrovich.
When the Missouri Department of Natural Resources officials inspected the condo's wastewater treatment, they discovered "significant amounts of [sewer] sludge and other visible solids" polluting the lake.
Then again, this is the same department that
withheld information about the E. coli levels
in the first place, so we're just going to wait and see how this plays out.
At least
six Missouri beaches have already been closed
due to E. coli, which is appearing at 19 times the state standard in some locations.