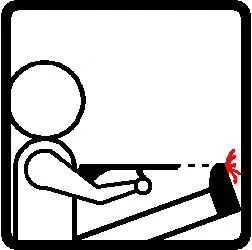 The Supreme Court shot America in the foot
The timing of the Supreme Court's
5-4 ruling
that the Second Amendment prevents cities and states from enacting strict gun control laws couldn't be more ironic. The decision overturned Chicago's ban on handgun ownership the day after
26 people were wounded
in shootings across the Windy City and two weeks after 54 people were wounded and ten killed in less than three days.
Take a second to wrap your brain around those numbers: 80 shootings in 5 days. That's the kind of tally one expects to see in Kandahar, Mogadishu, or Juarez -- not the third-largest city in America.
Now imagine how many bullets will fly when pistols become even more readily available to Illinois criminals.
Chicago's
Mayor Richard Daly
summed it up perfectly when he said, "Across the country, cities are struggling with how to address this issue...Common sense tells you we need fewer guns on the street, not more guns."
To be clear, the ruling doesn't affect Missouri. St. Louis and the Show-Me State have some of the most permissive gun laws in the nation.
But crime-plagued metro east communities like East St. Louis and Washington Park will no doubt suffer in the long run. East Boogie just had its sixteenth homicide of the year and
Mayor Alvin Parks
could only shrug and
tell the Belleville News-Democrat
, "We have to get the guns out of the hands of the wrong people."
Gun nuts will inevitably argue that the court simply stated that individuals in Illinois (and other states) can carry concealed weapons, thus ensuring that people will be able to protect themselves and prevent crimes from occurring. It's classic backward logic. The simple truth is this: more guns means more violence. The statistics from countries like England and Japan, where gun ownership by private individuals is severely restricted, have reinforced this fact for years.
Yes, responsible Americans should be able to own firearms for purposes like hunting and home protection. But concealed weapons for everyone, particularly semi-automatic handguns, was not what the Founding Fathers had in mind when they drafted the Second Amendment.
Justice John Paul Stevens
said as much in his dissenting opinion -- his last before retiring. He wrote that, "The reasons that motivated the framers to protect the ability of militiamen to keep muskets available for military use when our nation was in its infancy...have only a limited bearing on the question that confronts the homeowner in a crime-infested metropolis today."
Stevens also said that "The consequences," of the majority's decision, "could prove far more destructive -- quite literally -- to our nation's communities and to our constitutional structure," than upholding previous court precedents.
Translation: Find a good tailor for your bullet proof vest because shit just got real.
Read the Tuesday Tussle rebuttal
here
.
DISCLAIMER: The views expressed herein should be construed only as argument for the sake of argument, and not as the personal opinions of the authors. In fact, the authors' positions in "Tuesday Tussle" are decided by coin toss.