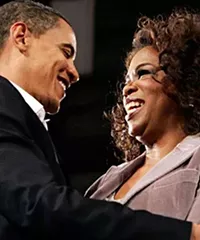 Can I get in on that hug? -- Rod
He loved her conversations on the sofa. He knew next to nothing about her politics, still
Rod Blagojevich
thought
Oprah Winfrey
would be the perfect person to to fill
Barack Obama
's empty Senate seat.
Or, was he just planting the seeds for his insanity defense? One wonders after hearing the tape released today during Blago's corruption trial in which the former Illinois governor talks to his chief of staff about nominating Winfrey.
Per the
Associated Press
:
His former chief of staff John Harris, who is on the witness stand, is heard on the tape saying he didn't know what Winfrey stood for politically. But the former governor says he knows she is a Democrat and supported Obama in his race for president. He calls her a "kingmaker."