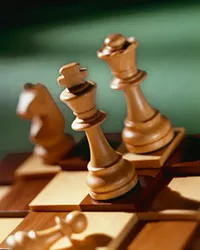 The chess match heats back up.
It's been rather refreshing here at
Daily RFT
the last couple weeks as we've not felt compelled to write one solitary post about federal health care reform.
Since being signed into law a few months back, the rhetoric surrounding the legislation has largely disappeared -- but not for long. At least, not here in Missouri where legislators earlier this year
passed state Sen. Jane Cunningham
(R - Chesterfield) bill calling for a referendum to ask Missouri voters whether or not they want to adopt the federal health care reform. The vote is scheduled for August 3.
Now comes news that two Missouri women have filed a
lawsuit to stop the referendum
on a legal technicality.
I applaud their effort, though I'm not sure it will do anything just as I'm unconvinced that Cunningham's referendum will do anything if it passes. Federal law almost always trumps state law.
Speaking of lawsuits, though, whatever happened to Lt. Governor
Peter Kinder
's
plans to sue the federal government
over health care reform? Kinder first mentioned the pending lawsuit in early April and
despite raising cash for the legal challenge
has remained curiously mute on the issue in recent weeks.