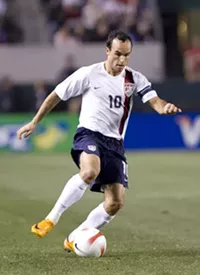 The USA match against Algeria today was tied nil-nil at the end of regulation, but you had a feeling that the Americans would find a way to win.
They'd been on the offensive the entire second half, and two minutes into a four-minute overtime USA got it done with
Landon Donovan
nailing a ball that had just moments earlier been deflected by the Algerian goalkeeper.
The win has the USA advancing to the next round of the World Cup along with England, the other team to move on from Group C with a 1-0 win over Slovenia today.