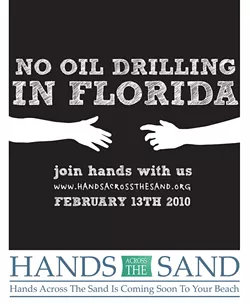 On Saturday, dozens of St. Louisans will
gather on the riverfront
beneath the Arch to
hold hands in a silent protest against offshore oil drilling.
Local event organizer
Stacey Critzer
anticipates 50, maybe even 100 participants.
It's not exactly Hands Across America, but then again, this is the first time the campaign has come to St. Louis. And judging from
Big Oil's recent blunders
, activists might be forming quiet human chains for years to come.
Formed last year in Florida to oppose offshore drilling, Hands Across the Sand has seen its popularity blast off -- like oil gushing from a severed pipeline! -- ever since the BP debacle in the Gulf of Mexico.
Critzer tells Daily RFT that Saturday's event kicks off at 11 a.m. with the group hand-holding to begin a noon.

So if you want to give Big Oil the silent treatment en masse, get yourself to the riverfront Saturday morning. We may not have the sand, but we can definitely put our hands across some good ol' Mississippi River mud. That we've got in spades.