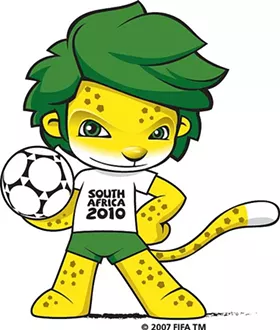 Zakumi, the official mascot of the 2010 World Cup tournament. He's a green-haired leopard, in case you couldn't tell.
You know the World Cup is on, right? Yeah, it is. Till July 11. Lots and lots of soccer. The rest of the world is going berserk right now. Here in St. Louis, a few hardy souls get up at 6:30 a.m. to watch the early matches from South Africa, but more people probably watch each Cardinals game. Soccer -- sorry, football -- fans say this is a prime example of American philistinism.
Fortunately, we have Washington University professor Stephan Schindler to explain the roots of the American distaste for soccer. Not to justify it, mind you -- Schindler teaches a course on the global culture of soccer -- but to explain. And it's even more complicated than the fact that, compared to hockey and basketball, many of us find soccer painfully boring to watch.
(Sorry, it's true. The only televised sport that's worse is golf.)
First, says Schindler, there are so many other sports competing for Americans' attention that soccer tends to get lost in the shuffle.
"Although there is enough corporate sponsorship available -- and although many young Americans play soccer -- there is not the kind of local identification with a team that drives European soccer," Schindler says. "For an American audience, soccer might be considered boring because of its low scoring.
"And, there aren't many statistics available for individual players, compared to baseball, for example," he says. "In soccer, the team counts more than the individual player."
Maybe soccer would be more popular in the U.S. if there were more elephants involved.
Second, in the U.S. people don't have the passionate attachment to soccer teams that people in other nations have. Well, of course not! We're too preoccupied with our baseball and football teams.
Finally, says Schindler, when soccer first became popular around 1910, it was considered a working-class sport because it didn't require much equipment aside from a ball. In the mind of many Americans, this became synonymous with labor unions and even socialists, which made it socially-unacceptable. (NB: Many social scientists are incapable of constructing any sort of argument without including socialism.)
According to a Wash. U. press release:
Schindler says that after West Germany defeated the Netherlands 2-1 in the 1974 FIFA World Cup final, the entire Dutch nation fell into deep depression.

"It left a scar that was only overcome when the Dutch team defeated the German team at the 1988 European championship," Schindler says.
Huh. Professor Schindler, have you been to Wrigley Field lately?