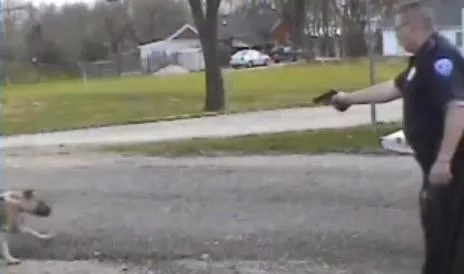 The incident occurred back in March but just went viral last week when video of the shooting was released on YouTube.
The clip shows two police officers in LaGrange (about 20 miles north of Hannibal) detaining and then shooting a dog tied to the bumper of a vehicle.
A court hearing was held last week over the shooting, in which the dog's owner,
Marcus Mays
, was
fined $50 for failure to register a dog
with the city and $100 for failure to have a leash or muzzle on a vicious animal.
The cops have not faced any discipline. The police were responding to a complaint that the dog growled at a seven-year-old girl on her way to school. Another neighbor testified in court that the dog had chased her husband.
Fast forward to the end of the clip to see the officer shoot the dog twice -- once in the chest and another time in the head.
Mays isn't exactly a sympathetic dog owner. He owns three other pit bulls and a bull mastiff. In 2007 he pleaded guilty to animal abuse and agreed not to own any animals for two years.