In
part one
, I took a look at the first five rounds of the Cards' draft, as well as the overall breakdown of player by type. This time I'll cover the middlish rounds of the draft, 6-20, and then next time tease out any interesting players who happened to be picked up in the late rounds.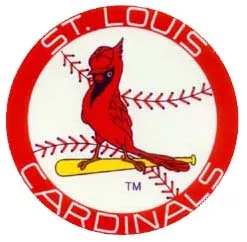 After selecting two players who fell past their talent slot due to signability in the first five rounds, as well as a couple solid performing Sun Devil pitchers and a tool-shed prep shortstop, the Cardinals went heavy on need and performance as they moved into the middle rounds. The organization had stated going in that left-handed pitching was a priority, and they loaded up on lefties in a big way. They continued to mine for athleticism as well, and their finest foray into that arena may end up being the player who least fits the profile of a middle round draftee. Now, if they could just get him to sign...
Let's take a look at some of the more intriguing names drafted.
R6, 199 overall: John Gast, LHP, Florida State
John Gast has a couple things going for him. One, he's left-handed. Two, he rolls up groundball outs in a big way. Three, he's left-handed. Oh, and four, he's left-handed.
Gast was actually a better prospect coming out of high school in 2007, when he featured a 94 mph fastball and two above-average offspeed pitches. In three years at Florida State, Gast seems to have stagnated. The stuff is still there, as he has the low-90s fastball and has turned the curve he used to throw into a nasty slider, but his changeup isn't what it was and he's battled injury and ineffectiveness ever since entering college. He's had Tommy John surgery, which cost him both time and command when he came back. I do worry his mechanics will leave him vulnerable to further injury, as he has a very high pitching elbow.
Personally, I really like the pick of Gast here. Any and every player available at this point in the draft is going to have warts, and at least with Gast there's a chance for more in his arm than what he's shown. At the very least, his fastball/slider combo should give him a jump start on LOOGY work. His ability to get grounders, though, should give him at least a decent chance to start for now.
R7, 229: Greg Garcia, SS, Hawaii
Last year the Cardinals drafted a shortstop out of Miami in the fifth round by the name of Ryan Jackson; this year they took Jackson again in the seventh round, only he had changed his name and moved to Hawaii, apparently.
Greg Garcia, much like Jackson, is a defensive whizkid at short, but has serious questions about his ability to hit enough to be a viable player in the pros. (Also like Jackson.) Garcia did hit much better this season than he had in the past, posting a .450 on-base percentage, but the long-term questions remain. If Garcia can hit even just a little, he could very easily fall into that Adam Everett/Brendan Ryan position on the shortstop spectrum. There's value in that, even if it comes as a utility glove.

R8, 259: Daniel Bibona, LHP, UC Irvine
The Cardinals really, really like Daniel Bibona, apparently, as they've now drafted him two years in a row. After the Cards drafted him in 2009, Bibona decided to return to school for his senior season and improved his stock with another outstanding campaign. So, the Cardinals called his name again this year, only several rounds earlier.
Bibona takes the idea of the pitchability left-hander to some theoretical nth degree. He's small (listed at 6'0", 170), he doesn't throw hard (his fastball tops out about 89), and he does nothing but produce. In his senior season, Bibona posted a K:BB of right at 7:1, while allowing opposing hitters just a .600 OPS against. He throws all of his various pitches (fastball, cutter, slider, changeup), for strikes, and his change is probably his best weapon. While it certainly wouldn't be a great idea to bet on a guy with Bibona's lack of stuff, stranger things have happened, particularly when dealing with lefties.
R9, 289: Tyler Lyons, LHP, Oklahoma State
Lyons and John Gast are in much the same boat. Both are left-handed pitchers who were big-time prospects coming out of high school, went to large schools, and saw their stocks fall by the time the pros came calling again. Unlike Gast (at least so far), Lyons stayed in college all the way to his senior season after being drafted but not signing with the Yankees last year.
Lyons attacks hitters from a high arm slot that give him nice downward angle on his fastball and allows him to get on top of his best pitch, a hard downer curveball that rates as a true swing-and-miss pitch. He's got a decent changeup as well, giving him enough pitches to at least begin his pro career as a starter. His fastball is firm in the 88-91 range; not bad for a lefty. Lyons was hurt badly this season by a severe case of homeritis, as he gave up ten dingers in just eleven starts, leading to an ugly ERA, but there's enough promise in his arm to think he should be better in the future. Somewhere there was a scouting report that compared him to Rays' reliever J.P. Howell (for the life of me I can't recall where I read that, though, and can't find it now), and I really like that comparison. Lyons has the one plus pitch and aggressive makeup of Howell, and I could certainly see him succeeding in a bullpen role down the line with his curve. For now, though, I'm sure he'll get every opportunity to start.

R12, 379: Austin Wilson, OF, Harvard-Westlake High School (California)
Ah, and here's the big one. Austin Wilson, darling of the scouting community. Stanford recruit, nigh-impossible sign, and absolute toolshed.
Austin Wilson was probably the second-best high school position player in this draft, just behind Manny Machado, the shortstop who went third overall. Wilson has pretty much everything: the size, the speed, the power, the arm, everything. He is, as they say, a man among boys playing ball. He also has one other thing: a strong commitment to Stanford his parents (both of whom have advanced degrees), seem to be pushing him to honour, and a very, very high price tag. He was thought to be either the toughest or second-toughest sign in the entire draft (along with high school right-hander Zach Lee), which explains why he was still around in the 12th round, when by raw talent he probably shouldn't have been around at 12th overall.
If the Cardinals somehow manage to pull off the coup of signing Wilson, they probably can boast the best draft of any team in baseball. Even the Red Sox, with their huge haul of high-bonus ceiling guys, wouldn't be able to claim a bigger load of premium talent than Zack Cox, Tyrell Jenkins, and Austin Wilson. All three were easy top-20 talents; the Cards' first pick came at 25 and they snagged all three. That's a gift of a draft not likely to come around again any time soon.
Of course, signing Wilson is a longshot. There's a reason he was available almost 400 picks in, and that reason is most other teams just didn't think they had a chance at him and didn't want to essentially punt the pick. Still, I don't think it's impossible a deal could get done. The Cardinals should make every effort they can to sign him, above and beyond what you normally do even for a premium talent. The fact they somehow had one of the top 5-7 talents in the entire draft fall into their laps this late should not be overlooked, and such a stroke of good fortune won't happen again. Even if they ultimately fail to sign Wilson, it won't be a disgrace; it was a ballsy maneuver to pick him, and even as pundits and talking heads say there's no chance he signs, we have at least this for consolation: the Cardinals have an infinitely better chance of signing him than any other team right now.
I'll make a bold prediction: Austin Wilson will be a Cardinal next year. Count on it. I see absolutely no way he isn't.

R16, 499: Anthony Bryant, OF, Connally High School (Texas)
Bryant is a very toolsy, left-handed hitting outfielder with the potential to hit baseballs a long, long way in the future. He's tall and strong (6'3", 215), and has a loose, sweet swing that produces power already and should translate into even more down the road. Beyond just hitting for power, Bryant also has a wide base of tools, with good speed and a plus arm that should make him a natural fit for right field. He's played mostly center in high school and plays it pretty well, but he'll likely lose a step as he fills in a bit more and move to a corner.
There really isn't a whole lot Bryant can't do on the baseball field, though his pitch recognition needs a fair amount of work. That's not really a concern with a high school player, though; there's plenty of development time ahead of him. As a project, the payoff could be considerable if things break right and allow Bryant to make use of all his tools on the field.
R17, 529: Corderius Dodd, OF, North Side High School (Tennessee)
Corderius Dodd is a big, big human being. He's 6'2", 230 lbs (and there are plenty of reports that put him more in the 250 range), and he's just coming out of high school. At that size you might expect him to be a lumbering first baseman, but he's surprisingly athletic for his body and has done well in the outfield to this point. Still, you have to expect that athleticism will take a downward tick as he gets older, so projecting him as a future first baseman is certainly not exactly a controversial position to take.
Dodd has enormous raw power to go along with his body, capable of hitting tape-measure shots to all areas of the ballpark. He's got a strong, balanced swing and uses his hands well. He even shows good plate discipline for a high-schooler.
Dodd is a perfect example of how a player with big-time talent can fall through the cracks a bit. He played for a relatively small high school and never attended many showcase events due to a lack of financial resources. He finally started to get some press his senior year, when his skills took off to match his tools, and he moved up into the middle rounds of the draft. He may be better than that still, though there are plenty of questions he'll have to answer in pro ball. I'm reminded of Kyle Blanks, the hulking outfielder for the Padres, when I look at Dodd, and I have to say that's not the worst thing in the world.


R18, 559: Boone Whiting, RHP, Centenary College
You know what? I almost don't care what the scouting report on Boone Whiting is. That's a name you have to have in your system no matter what. So he's in a wheelchair? Screw it! His name's Boone Whiting! Draft that sumbitch right now!
To be honest, there's very little out there in terms of an actual, usable scouting report on Whiting. Looking at the numbers, he posted better than a 3:1 K/BB ratio, based largely on a high strikeout rate of 12.9 per nine innings. From what little I could find on him, he doesn't throw all that hard, topping out around 90, but has a plus slider he uses to get lots of empty swings. There's no mention of a changeup of any sort, so I'm going to assume he doesn't have a great one. Given the scouting report and his high strikeout numbers, I think Whiting may very well end up in a relief role, possibly similar to Luke Gregerson, the right-handed slider specialist the Cardinals dealt away to the Padres for Khalil Greene.
R19, 589: Chad Oberacker, OF, Tennessee Tech
Oberacker is a nice pick who straddles the line between several different draft demographics. He's toolsy, with a sweet left-handed swing that generates easy line-drive power, and runs well both on the bases and in the outfield. He's also a polished performer who posted a 1.217 OPS this year and walked 34 times compared to just 23 strikeouts. He plays for a relatively small school off the beaten scout path, a big part of the reason he wasn't drafted sooner than the 19th round. Oberacker also has a history of success hitting with wood, as he played in the Valley League,
a wood bat league based in the Shenandoah Valley in Virginia
; the Cardinals pay a lot of attention to any experience potential draftees have in wood bat situations.
What Oberacker's ceiling might be I have no idea; on the other hand, the plate discipline alone is enough to make him an intriguing draft choice for me. It's possible the Cards may have found a gem hidden off the scouting trail.
Throughout the middle rounds of the draft, the Cardinals focused on filling their needs and players with track records of performance. The huge haul of left-handed pitching is nice to see, as it should help shore up a real area of weakness in the system; it would be nice to be able to bring along a cost-controlled version of Trever Miller or Dennys Reyes at the very least in a couple years.
The one big exception to that pattern, of course, is Austin Wilson, who represents a radical risk for the Cards, as well as the most intriguing investment opportunity in possibly the whole draft. That pick alone, coming as it did in the twelfth round, makes this segment of the draft a win. The fact the Cards were able to add a ton of big performers from colleges all over the country is icing on the cake.