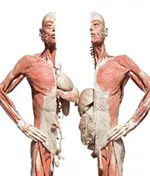 www.bodiestheexhibition.com
Is this the body of an executed prisoner?
Missouri Congressman
Todd Akin
fired off a letter to the owners of the Galleria this week condemning the St. Louis shopping mall for its
recent announcement
that it will host an exhibit of plasticized human bodies in October.
In the letter (embedded below), Akin questions the source of the cadavers used in
BODIES The Exhibition
. Writes Akin to the mall's parent company, General Growth Properties:
You may not be aware, but this exhibit has faced serious ethical and human rights questions regarding the source of the human bodies on display. In particular ABC's 20/20 revealed in 2008 that some of the bodies were obtained in China and may have included execute prisoners.
Akin's communication's director, Steve Taylor, tells
Daily RFT
this morning that the Republican congressman has made human rights in China one of his priorities after befriending Harry Wu, author of the book
Bitter Winds
that recounts the writer's nearly 20 years spent in a Chinese gulag.
"It was Wu who first approached the congressman about the possibility of some of these bodies perhaps being executed prisoners," says Taylor, who adds that Akin is particularly concerned about the persecution of Christian missionaries and members of Falun Gong in China. "If there's any doubt that some of the bodies in these exhibits could be those of executed political prisoners, there's no way they should be on display."
In his letter to General Growth Properties, Akin notes that a New York showing of BODIES came with the following disclosure (
viewable here
) from the exhibit's operating company, Premier Exhibitions:
This exhibit displays human remains of Chinese citizens or residents which were originally received by the Chinese Bureau of Police. The Chinese Bureau of Police may receive bodies from Chinese prisons. Premier cannot independently verify that the human remains you are viewing are not those of persons who were incarcerated in Chinese prisons.
The congressman also notes that the St. Louis Science Center turned down an offer to display BODIES because of its questionable ethics. Instead, the Science Center in 2007 hosted a competing show called Body Worlds because of that company's ability to document the origins of its cadavers.
"We had an ethics committee review both exhibits," Beth McClure, spokeswoman for the Science Center tells
Daily RFT
today. "In the end, we chose to go with Body Worlds because of the educational value and because they had information on where they got the bodies."
In 2008, Akin tried unsuccessfully to pass a bill that would ban the "importation of plastinated human remains" from China. Taylor says Akin plans to reintroduce the bill again this year.
The letter from Akin to GGP follows...
St Louis Galleria BODIES Exhibit Letter