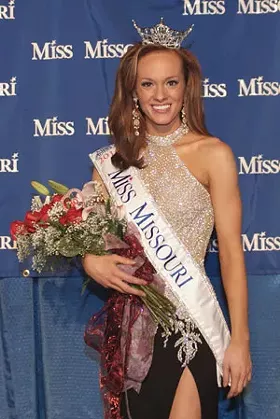 Erika Hebron of O'Fallon, aka Miss Gateway St. Louis, was crowned Miss Missouri 2010 on Saturday night. She'll be competing in the Miss America pageant in Las Vegas in late January.
"I was actually so calm that it was kind of scary because I didn't even know what to think," she told the Mexico Ledger just after her coronation. "I just had a great experience. I'm so overwhelmed right now,I haven't even cried yet, I'm so happy."
Between now and the next pageant, she'll be "getting out there and promoting my platform, the Children's Miracle Network and the Miss Missouri organization."
---------------
Just so you know, the Miss Missouri Pageant is not a "beauty pageant." That is sooooo 1950s! Modern girls compete in "scholarship pageants." They're doing it for the money, to further their educations!
All right then. The 2010 Miss Missouri Scholarship Pageant is well underway. Twenty-four young women have gathered at the Missouri Military Academy in Mexico to show off their talent and strut their stuff in evening gowns and bathing suits.
St. Louis is, of course, amply represented. We have Erin Bagby of St. Louis (Miss River City), Claire Thorpe-Klinsky of Creve Coeur (Miss Metro St. Louis) and Erika Hebron and Melanie Schneider of O'Fallon (Miss Gateway St. Louis and Miss Northwest, respectively). Curiously, Miss Gateway to the West, Katy Reed, has listed her hometown as Houston (the one in Texas County, in the Ozarks).
Competition began Wednesday night with interviews, evening gowns and the preliminary talent competition. If you're keeping score at home, Hebron tied with Kari Gai, Miss Kansas City, in the first round of the talent competition, netting a $150 scholarship. (See? It's not just a scam. They really do give out scholarships!) Hebron, reports the Mexico Ledger, performed a "lyrical dance" to the song "Brave."
Hebron said her goal with her performance was to "mesmerize" the audience and judges, with a captive [sic] performance that won her a top position.

"It's a song that fits the situation that I'm in, here at the pageant," she said. "It's such a powerful song and I wanted to convey that to the audience."
She is a dance major at Oklahoma City University.
The real moment of truth, though, will happen on Saturday night, when Miss Missouri gets crowned. Shandi Finnessey, who won in 2002 and went on to represent Missouri at the Miss America pageant (though she would have better luck at Miss USA two years later) will be on hand, though, the Ledger reports, prior commitments prevent her from serving as a judge.